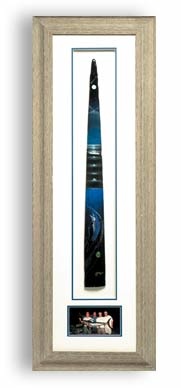 These are original paintings on the surface of authentic swordfish bills.
Upon completion of each painting, the bill is covered and protected in resin glass, sealing the image for a lifetime. 
R.J. Boyle can document any statistics of the actual catch directly on the bill in gold ink. The angler's name, weight of the swordfish, date of the catch, and boat name are some examples of statistics that can be added to bills.
Personalize your trophy by adding a photograph or hook to your shadowboxed bill.
Unframed bills will be finished with a hanger on the backside.
R.J. Boyle Studio will contact the angler to discuss all of the specific details of the catch.