Big Swordfish Off Hillsboro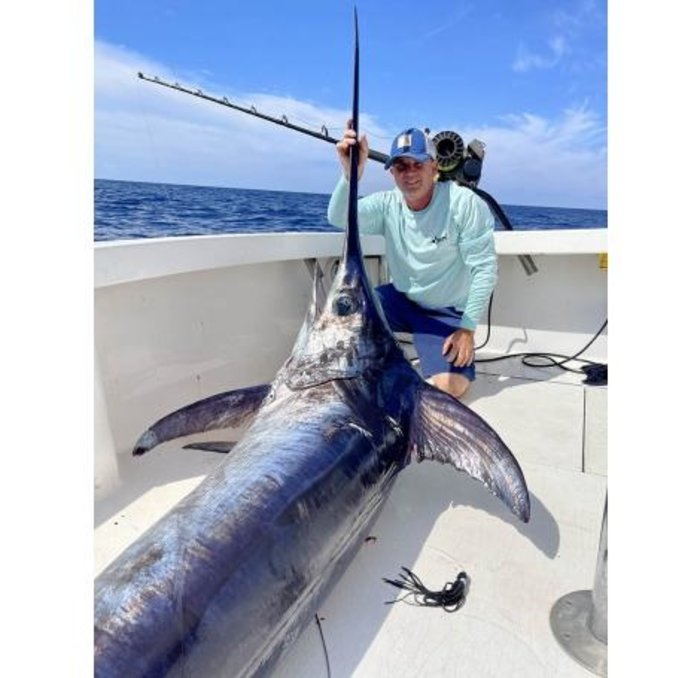 Pictured here is Scott Sansone with a big swordfish caught earlier this week. We fished aboard Scott's 42 foot sportfish called "Outpost". Scott is definitely one of those guys that has luck on his side as we have caught several big fish together over the years. This fish was caught in 1780 feet of water on a bonito taco. We fought this fish almost two hours. Throughout the week and last weekend in the OAPB swordfish tournament we had reports of at least six fish between 250 and 500 pounds boated right here off Pompano.
The winning fish in the tournament weighed in at 396 and was caught by Jim Holton. This is a great time to swordfish as the weather pattern calls for relatively calm seas through the summer months.
Farther inshore the blackfin tuna bite has slowed but the size of the fish caught are big, some pushing 30 pounds. There has been a few wahoos caught but I would spend some time catching mahi this weekend as we are still seeing a push of smaller fish in the 600-800 depth range. The kingfish bite has not been hot down our way. You would have to do some traveling towards Jupiter to find a good bite.
To get an up-to-date fishing report give us a call at the store and always remember to watch the weather as we get into the summer months.
RJ Boyle