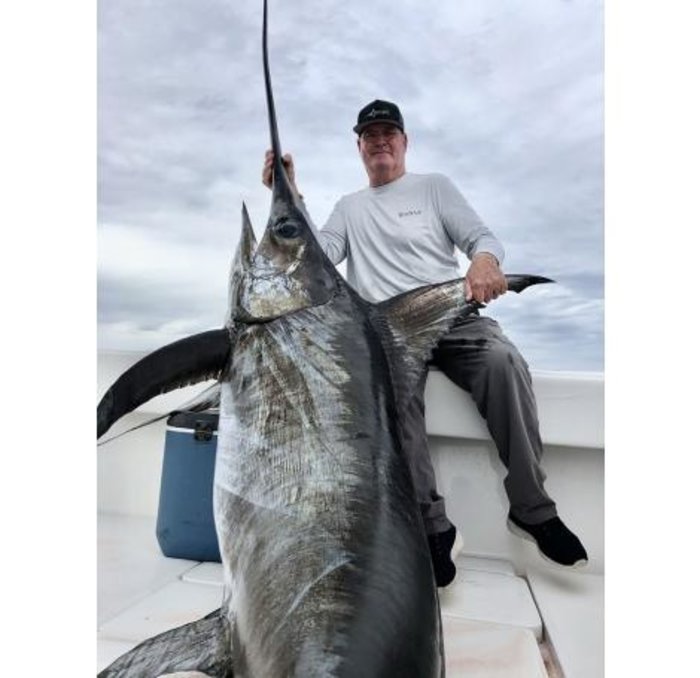 What a week it was for big swordfish catches. Pictured here is a fish we caught over 400lbs. We also caught a fish over 300lbs. the same day. The bite should be really good over the next month. Ladyfish used as bait was the ticket for our big fish. During the winter months we have baitfish that move through the swordfish grounds that resemble these silvery shiny ladyfish. These ladyfish also are filled with lots of iodine that swords love. The best depth for the swordfish right now is 1700 feet of water and that is around 14 miles out off the beach.
As for the near shore fishing the mutton snapper fishing has been the thing to do. 125 feet of water anchored up on the outside ledge is the spot. Fish a live ballyhoo with a circle hook on the bottom in the sand. You can catch live ballyhoo by anchoring in 20 feet of water on the patch reefs and chumming with menhaden chum mixed with a few oats. Use a #10 gold hook tipped with a piece of shrimp or squid to catch the ballyhoo.
The sailfishing and wahoo fishing has been slow but that could all change in a day with all of the changing weather.
Call us at the store for an up to the day fishing report!