Blackfin Tuna for Dinner!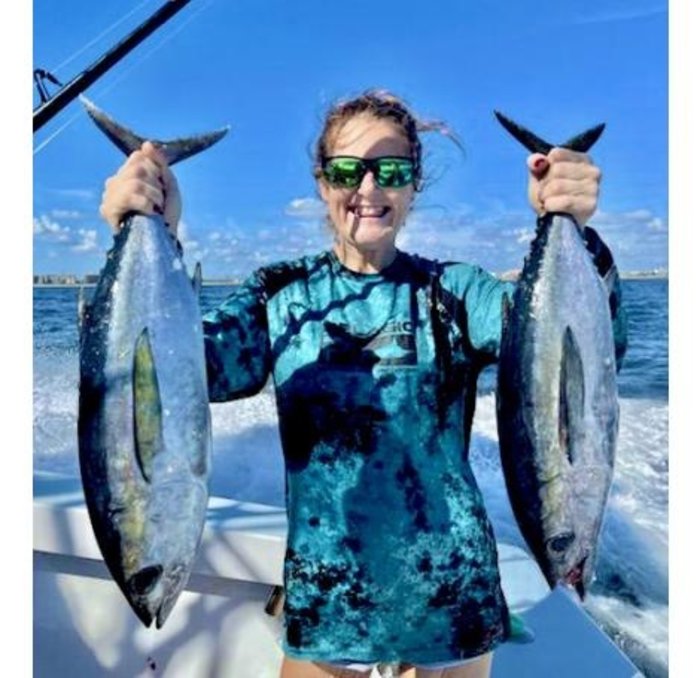 Pictured here is Ashley Huff with a couple of nice blackfin tuna caught earlier this week. There have been acres of these football sized tuna swimming in giant schools everywhere from Miami to Boynton Beach. It's not hard to miss them as the birds and tuna are breaking the surface everywhere! You always hear people talking about yellowfin tuna and how great they are to eat but I am truly a fan of eating the blackfin tuna.
One of the things you must do with any tuna is to bleed the fish as soon as you boat it. To make sure the meat is primo simply cut the gills so that the blood exits the fish. If you don't do this the tuna will have a gamey taste. Once you have done this to the tuna be sure to ice it quickly. When you get back to the dock and filet these tuna they will have a light reddish pink meat. That is when you know the fish will taste great!
Most tuna you see in stores has been gassed and the bright red color is simply artificial which looks better to customers. You can eat the blackfin raw or lightly sear it on the outside leaving the inside somewhat raw.
The best way to target these blackfin tuna is to troll a fluorocarbon 30lb leader with a small dark feather way back behind the boat.
These tuna are boat shy so make sure you put the rig way back. 100 yard minimum is great but watch out for other boats running your rig over.
As for other fishing there have been a few mahi-mahi around in sailfishing has been relatively slow. The swordfishing has picked up as several fish over 300 pounds were caught this week.
Good luck out there!
RJ Boyle