Blackfin Tuna Save the Day for a Slow Week of Fishing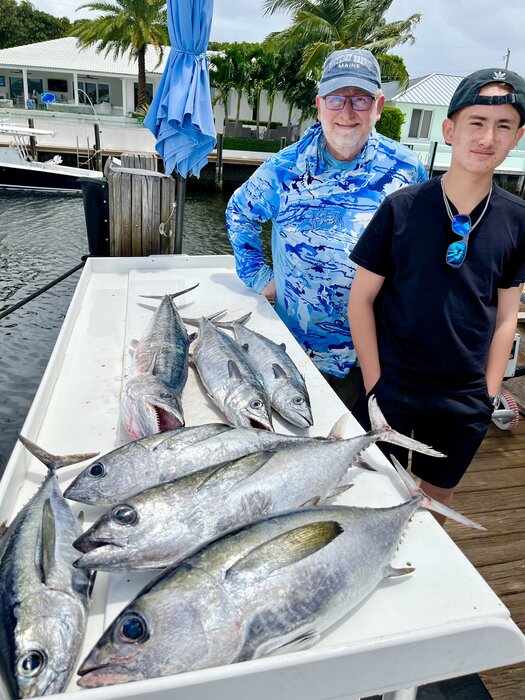 Pictured here is our charter from the "Lisa B" a few days back. This is about what you're going to catch if you're lucky right now off Hillsboro inlet. The fishing was tough all week for the charter fleet. We are going into a transitional time and the fishing is going to get slow for a couple of weeks. We are experiencing high current and this has a tendency to move fish in and out of our area. You still have a chance around the full moon to catch a big wahoo and that seems to be the staple for our area over the last several years. 
One thing to remember when catching blackfin tuna is you must bleed the tuna out while it is still alive if you would like a quality meal for dinner. You cannot leave the blood in the meat and expect blackfin tuna to taste good. Simply cut the gills to allow the fish to bleed out while the fish is alive and that will give your meat a really light pink color instead of a red bloody tone. This may sound a bit barbaric but is what you need to do to any type of tunafish intended for the dinner plate.
The swordfish bite was also very slow offshore as well as the mahi bite. Hopefully we will see better fishing in a week or so but to get an up to the minute fishing report tune in to 105.9 the Paul Castronovo fishing report sponsored by Papas Pilar Rum  Friday morning at 6:35 AM.
Get tight!
RJ Boyle