Chicken Rigs are Top Secret!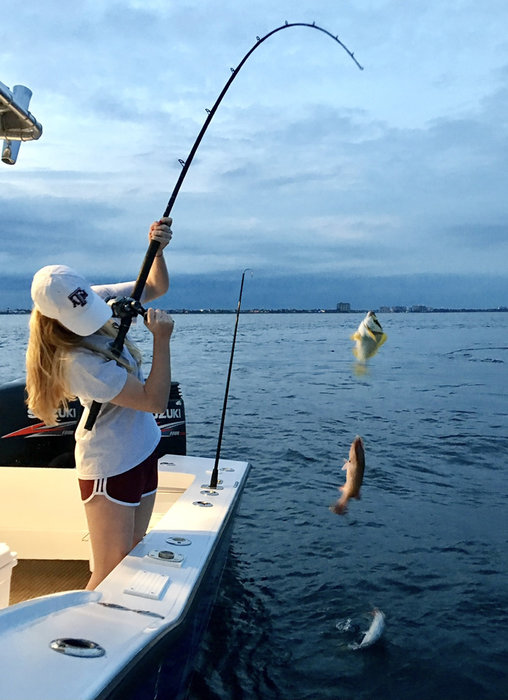 Pictured here is Caroline Boyle pulling on three fish at one time. She is using a rig that has three separate hooks baited with cut squid. We call this a chicken rig and it is one of the most productive things for bottom fishing locally in our area. This rig can be dropped anywhere from 20 feet of water out to 150 feet of water and can produce lots of different types of fish. Snappers, grunts, triggerfish, porgy, blue runner and many other bottom fish are caught on this rig. Trolling for hours without a bite can be excruciatingly boring.
Putting a rod in somebody's hand and having the rod bend over as soon as it hits the bottom brings joy to anyone who loves fishing. If you own your own boat or if you take people out on charters it is important to bend the rod and to keep everybody interested. Kids have a tendency to get bored easily and this is the perfect kind of fishing to keep their interest. The great thing about bottom fishing with this rig also is that most of the fish that you catch on the bottom are edible. I would suggest that if you're getting into fishing to bring an ID book to verify what it is that you were bringing onto the boat. Some fish have closures and seasons and you do not want to get caught with illegal fish.
The wahoo bite this week was pretty darn good. Most of the fish caught on the smaller side between 15 and 20 pounds. The day before the full moon was definitely the best fishing for wahoo. Mahi-mahi were encountered well offshore on the swordfish grounds around 15 miles out. There were a few fish over 30 pounds caught. Sail fishing was mediocre this week but the mutton snapper fishing is on fire. If you are live baiting or kite fishing for sailfish be sure to drop a line down 100 feet with a long leader for a mutton snapper.
Have a great weekend!
RJ Boyle