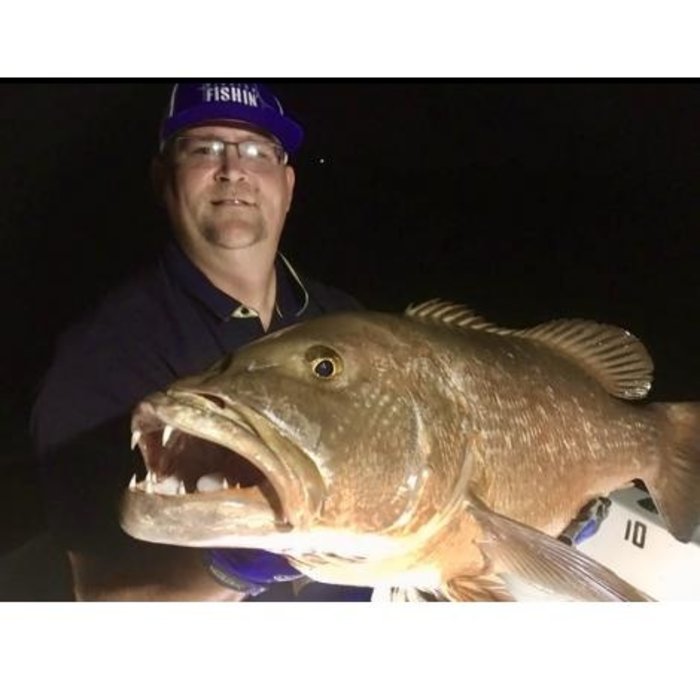 Pictured here is Tony Davis with a prehistoric looking Cubera snapper we caught on a trip with Capt Bouncer Smith out of Miami Beach. Over the next 60 days and only on the full moon will you really have a great shot at catching a fish like this. I had never experienced a fish that bit as hard as these cubera snapper! If you were holding a rod it will almost be ripped from your hand as the bite is that violent. It does take some technique to be able to hook them as you are using a live lobster for bait. It is crazy to think that a fish could eat right through lobster shells.
We caught several fish in a depth of 150-200 feet. We drifted alongside several wrecks where these fish stage up on the full moon. You have a very small window of opportunity to do this type of fishing so please reach out ASAP if you are looking for a trip as it will fill quickly.
As for local fishing the kingfish bite turned on a little bit last week as we had several trips with our limit of kings. We landed up to a dozen per trip and most of these fish were in the 8 to 10 pound category. Lots of smaller bonito and mahi-mahi we're also caught all inside of 400 feet of water. Due to rough sea conditions there were not a bunch of reports.
The most promising report that I did get was a sailfish bite that was going on inside of 100 feet of water. Two boats that were snapper fishing without much luck each caught five sails on a half day trip off of Boca. Most of the boats that were targeting sailfish were fishing much deeper so if you get a chance don't be afraid to go shallow this weekend for the sails.
Get tight!
RJ Boyle