Fishing was Hot and Cold this Week!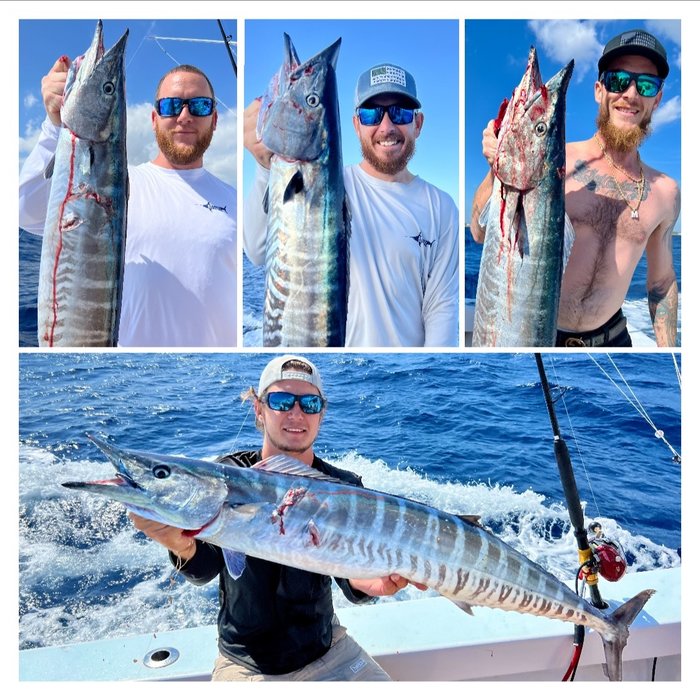 It still baffles my mind to think that after all these years of fishing, we really haven't figured out much. Why fish bite, where they are going to bite, and what time they are going to bite are all speculative things. I guess maybe it is the unseen things in the ocean that we cannot understand as humans that control fish and their activity. We fished every day this last week, and every other day, we had a great trip while the in-between days were filled with slow catches. In the picture here, we see several wahoo caught on a four-hour trip with the SJS Mechanical charter. Scott Sansone Jr was celebrating his 30th birthday with his buddies and was blessed with one of the great trips. They also caught and released a sailfish, several sharks, and a kingfish. The next day we caught 2 kingfish on a 6-hour trip. I guess that's why they call it fishing and not catching. You never know what you're going to get.
For those anglers that have boats and are willing to travel to the northwest channel behind Freeport, we are here to let you know that the yellowfin tuna bite is on. You must carry tons of live bait if you plan on racking up numbers. Reach out to us at the shop, and we can put you in touch with the local bait providers.
For an up-to-date fishing report, please tune in to 105.9 the Paul Castronovo show Friday morning at 6:40.
Get tight! RJ Boyle