Giant Sword caught in the Sunburn Swordfish Tournament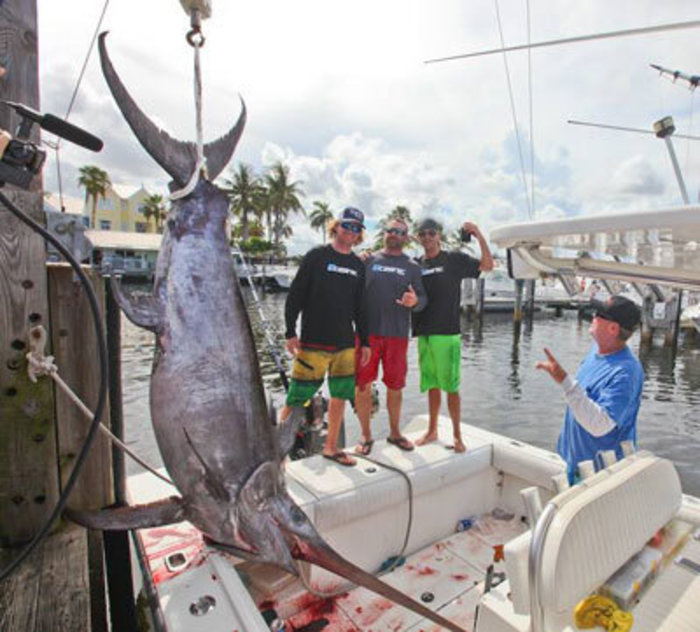 The Sunburn Swordfish tournament was awesome this year as boats from Fort Pierce to Miami competed. 27 boats filled with some of the best fishermen in the state dropped lines in 15 miles offshore in pursuit of a big sword. One of the cool things about this fishery is that guys and gals have become quite good technically when it comes to landing these big fish. Check out inthespread.com for films on swordfish tactics. If your tackle is rigged correctly and you have a decent boat driver you really have a chance at catching a life changing fish. In this years tournament the crew of the Shea-D-Lady would be that lucky crew. It didn't take them long to hookup just after lines in but it did take them 3 hours to land the tournaments big fish.
Shortly after they called in their catch the radio rang out with another boated fish from the crew of the HOOS NAKED. The bite slowed throughout the rest of the morning as the radio went silent. With thirty minutes left in the tournament the radio lit up again as fish were boat aboard LIVE ACTION, LA NENA, SNOW CONES REVENGE, and KILLER GREEN. As fish were being boated in our area the boats fishing to the north began to hooking up. The weigh stations for the tournament were located at the Lighthouse Point Marina and the Sailfish Marina in Palm Beach. At days end SHEA-D-LADY would take the top prize catching a 501lb swordfish and a 70lb fish to boot. Second Place big fish went to HOOS NAKED with a 155lber. Third place belonged to PIRACY out of Palm Beach weighing a 144lb and a 109lber.