Great Catches of Wahoo and Mahi-Mahi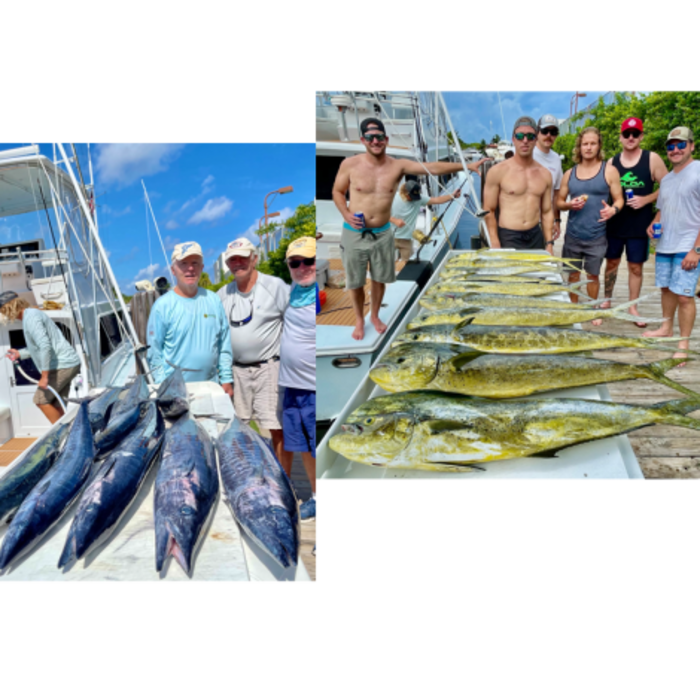 What an awesome week of fishing we had aboard the "Lisa B" this week. The Bill Bouck crew pictured here with a table full of wahoo enjoyed some of the best of the wahoo fishing on a charter we have seen in quite some time. It is awesome to catch one of these fish on a half-day charter but to catch four is crazy. All of these fish were caught while planer fishing around a floating wood pallet in 135 feet of water. This crew books the boat every month a few days before or after the full moon. That is the best time locally to put a wahoo in the box.
The table full of mahi was caught by the Luke Nill charter. We found a piece of bamboo floating in 750 feet of water outside Hillsboro inlet. We trolled past the floater and all of the rods bent over with fish on! We almost ran past this piece of wood without seeing it. Keep your eyes peeled as you run east. One trick of the trade is to have somebody looking west behind you as you head east. The morning sun can make it difficult to see floating objects in the glare of the sun. Once we find a dark floating piece of wood we always throw an orange marker to mark the spot so we don't lose the object.
The fishing is really going to start heating up now for mahi and wahoo. The swordfish bite in the day is tough right now as the squid have moved in. When we see lots of squid around we see a decline in the number of bites in the daytime. Night fishing for swords actually really picks up now so pick a calm night and give it a go.
We are here to give you an up to the minute fishing report so reach out to the shop at 954-420-5001.
Tight lines!
RJ Boyle