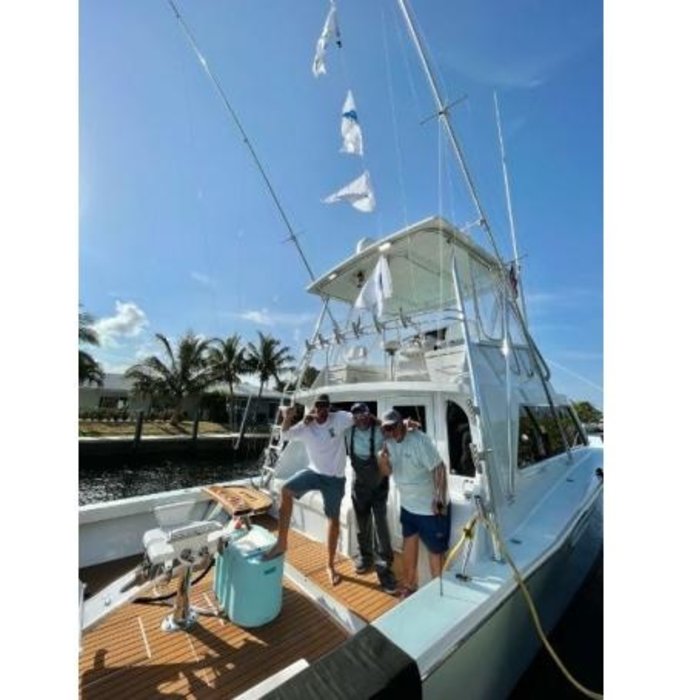 Pictured here left to right is Cody Bandura,Drew Kettlehut and Capt Mark Danley aboard the Lisa B. Four sailfish release flags are hanging from the rigger which was enough to give them to win last weekend in the Florida Fury Fishing Classic. This was a sailfish only tournament and the fishing for sails was relatively slow.  The rest of this weeks charters have been filled with blackfin tuna, big king fish and several wahoo. The size of the fish are all increasing as we are getting into the prime fishing time for meat fish. There are several tournaments over the next few weeks where you will see some prize catches.
This weekend we will be fishing a tournament for swordfish out of Hillsboro Inlet which is being put on by Gray Taxidermy and Suzuki (Outboard Specialties).
This will be the first outing targeting swords strictly for release. The top boat will be the boat with the most swordfish releases. During this tournament we be deploying satellite and paper tags to follow and learn about this wonderful fish. We are expecting 25 boats to compete.
You can sign up as late as Friday night so give us a call if you'd like to be a late entry.
Swordfishing over the last several days has been really good with boats landing multiple fish. That being said I can tell you that this time of the year is a hit or miss type of deal.
If the weather is nice give it a go. You have a 50-50 shot of catching a sword which is actually good odds.
954-420-5001 for registration and questions.
Get tight!
Rj Boyle