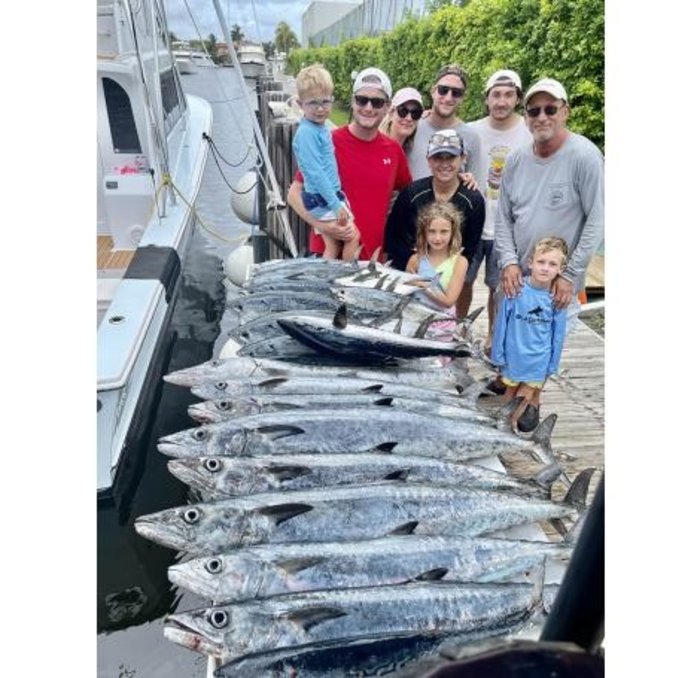 Pictured here is the Hammell family with a wonderful catch from earlier this week aboard the "Lisa B". Every day this week was filled with kingfish and bonito catches. We mixed in an occasional sailfish and failed to close the deal on several wahoo bites. Needless to say as you can tell from the picture we stayed busy putting up some great numbers. The kingfish are getting bigger as the average weight was around 12 pounds. Personally I love to eat kingfish the same day that we catch it. We dice it up and make tacos. Others love to smoke the kingfish and I believe it makes the best fish dip on the planet.
As for the Bonita we use them for bait and we cut them for strips and dolphin chunks. You can never have too much bait! As for the swordfish bite we had several reports of fish over 200 pounds this week. One boat actually reported a six bite day but was on the unable to close the deal on any of these fish.
This is a great time to catch a giant swordfish as it was two years ago today when we landed a 558 pound sword in a local tournament. We received a bill from a customer last week that  boated a 675 pound fish off Hillsboro inlet. If you are looking for a giant sword then now is your time.
For an up-to-minute  fishing report please call the shop at 954-420-5001.
Stay tight!
RJ Boyle