"Lisa B" catches Giant Wahoo Off Hillsboro Inlet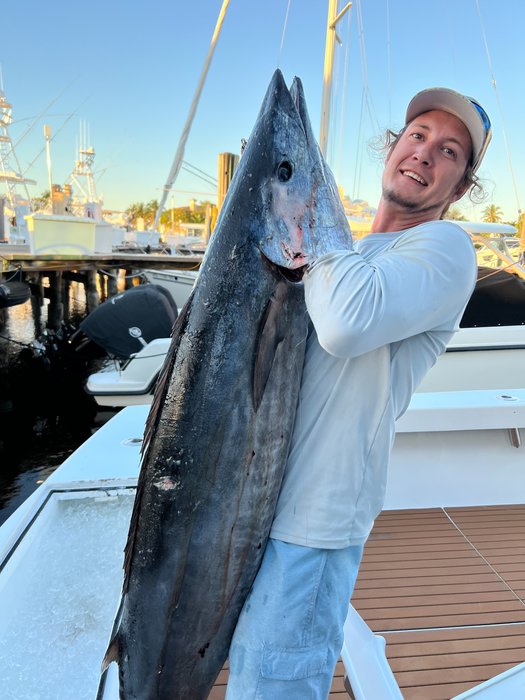 Our charter boat Lisa B caught a boat record this week landing an 81lb wahoo. Pictured here is our mate Luke Mears struggling to hold up the beast. I would say that the average wahoo off our coast weighs around 20 to 25 pounds. Catching a 50 to 60 pound wahoo is rare but 81lbs is crazy. This fish was the biggest wahoo caught by Captain Mark Danley off Hillsboro inlet in 46 years of charter fishing. To put it into perspective captain Mark Danley fishes 200 days per year and over a 46 year span this is the biggest wahoo he has caught. This was truly a special catch. This fish ate the short planer rod baited with a bonito strip and a pink and crystal sea witch and peeled about 400 yards of line before slowing down. This fish was hooked in 200 feet of water and believe it or not it was only one of two bites had all afternoon. We managed to catch a few wahoo all week and a handful of mahi-mahi but truth be told the fishing was slow early in the week. As I am writing this we just caught a sailfish and a small wahoo so things are beginning to pick up. 
We are experiencing some cold fronts which can create ground swells which are heightened around the inlets. Please take caution and check the weather before heading out.
For up to the minute fishing report please call the store at 954-420-5001 or tune in to 105.9 the Paul Castronovo show for the Papas Pilar fishing report at 6:40am on Fridays.