Swordfishing is Picking Up As We Get Off the Full Moon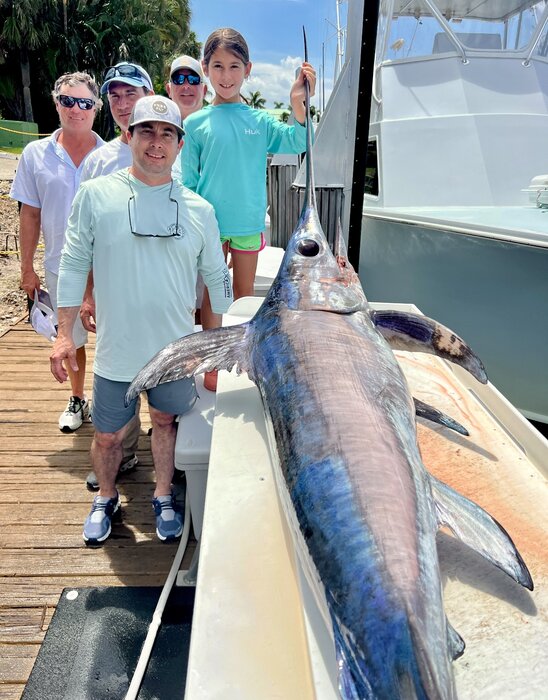 Pictured here is the Colgrove charter from a few days back with a beautiful swordfish caught aboard the Lisa B. Several boats off Hillsboro inlet have caught numerous swords this week as we get away from the full moon. The full moon is great to catch a big fish but not numbers of fish. The smaller the moon the more swordfish bites you generally get. The only way to know this is to keep logbooks and we have plenty of them over the last 30 years. It truly is amazing how the moon and sun and lots of other ingredients play into how good the bite is. The best bait this week for swordfish was the squid tentacle with a skirt over the top of the bait. The size of the hook we've been using is a stainless 7691 style 10/0.
The bite should only increase over the next week. Closer to shore the wahoo bite was excellent around the full moon but should slow down this weekend. Kingfish are sporadic as are the blackfin tuna.
One cool thing that we saw this week was several blue marlin being caught while trolling offshore. Captain George Disbury on the Bolo out of the Cove Marina caught a fish over 300 which is  awesome for this area. Keep an eye out this weekend for the blue marlin!
For an up to the minute fishing report turn into 105.9 the Paul Castronovo show Friday morning at 6:30 AM.
Get tight out there!
RJ Boyle