The Current Off Hillsboro Is Moving At Record Speed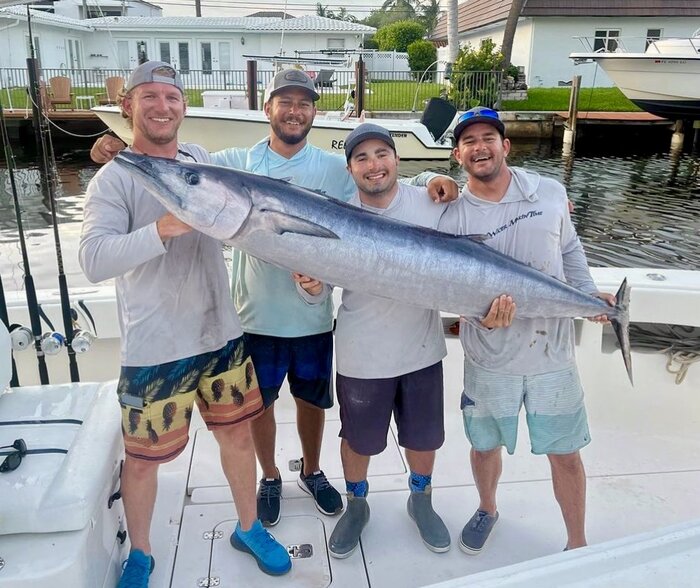 So it was an interesting week of fishing for sure. We traveled offshore with a group of anglers in search of a swordfish. When we got to the spot and took the boat out of gear we realized that we were moving almost 5 knots to the north or about 5.7mph. After years of fishing in the gulfstream I can say that this is about as fast as I've ever seen. What is even crazier is that the current 1 mile off the beach was 5.5 knots! I can honestly say I have never seen that kind of speed going to the north. We tried to drop on a couple wrecks but we were moving so fast we could not be effective. We began trolling and did have success with kingfish, tuna and bonito as well as a sailfish. The movement was great for trolling but not so good for bottom fishing. This weekend you may want to go trolling or fish live bait and drift as you have the opportunity to cover ground. The swordfishing was terrible and has been for several weeks here. We anticipated a better bite this week but it did not happen. We had several reports of fish being farther north so if you were going to go swordfishing, Palm Beach might be your best bet.
This fast current is not a bad thing as we often see good fishing after a bit of an ocean shake up. We notice seriously high currents around hurricanes and full moons.
One special catch last weekend was made by the crew of Makin Time and Living Water while fishing in Jamie Bunn's saltwater slam tournament. The boys landed and 88 pound wahoo to take home the big fish prize. 
Congrats to crew and anglers!
RJ Boyle