The Wahoo Bite Will Get You Right!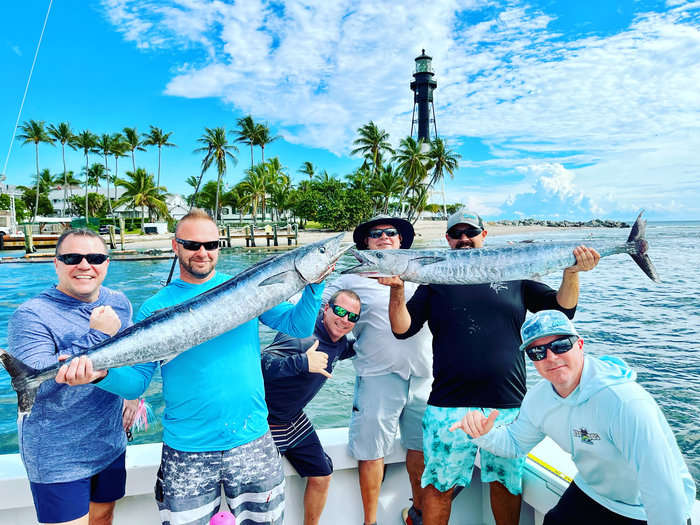 Pictured here is the Tony Grant party with a couple of nice wahoo on a half-day trip earlier this week aboard the Lisa B. Wahoo has become the most consistent go-to trolling fish for anglers in our area. We used to consider wahoo a seasonal fish as the winter months were the best but these highly migratory fish now bite year-round. Some say it is because we fish for them and target them more than we ever did but I am here to tell you that the wahoo population locally has grown immensely over the last two years. We have had some interesting conversations with local divers who claim that the wrecks in our area hold some giant schools of fish with numbers over 100. We have learned so much from guys who spend time underwater and see these schools first hand. They also clue us in on snapper fishing as they spend time looking for lobster on the local wreaths. Snapper and Wahoo are two fish right now that you can truly target with a high success rate.
The yellowtail snapper bite is also a fishery that has gained ground locally with success. There are definitely tips and techniques that will improve your chances for landing both of these species. Please reach out to us at RJ Boyle Studio and we can get you dialed in on techniques as well as a fishing report that we air on 105.9 FM the Paul Castronovo fishing show on Friday mornings at 6:40 AM.
The weather looks pretty decent this weekend but please always check the rain forecast before leaving the dock.
Get tight!
RJ Boyle