The Weekend Fishing Should Be Excellent After the Rain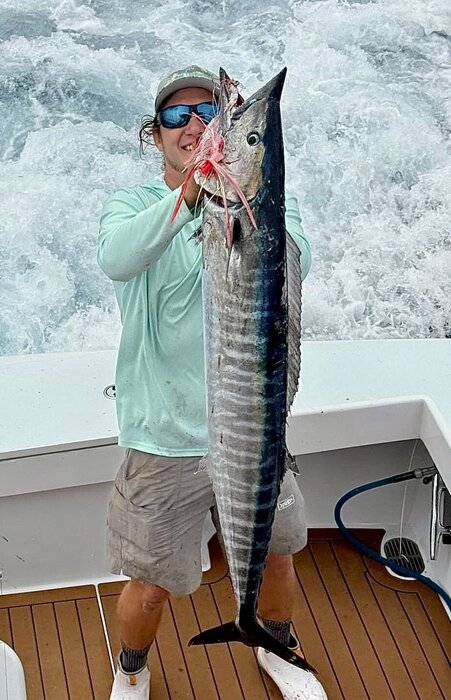 As I am writing this report the rain is falling down but the fish are still biting. Pictured here is a charter from the "Lisa B" with a nice mahi and wahoo. We will have a lot of dirty water flowing out of the inlets this weekend from all the rain prior. On the outgoing tide try to be as close as you can to the tide line in search of a wahoo. The water that is flowing out of the inlet will be filled with some fresh water, but it should make for good near shore fishing. The mahi that is pictured here was caught in 120 feet of water which is great news because we don't really have to run far offshore and burn gas to find a nice catch. The sailfish bite has been unbelievable a little farther north off of Palm Beach this week as several boats put up big numbers. 
People always ask us if the rain affects fishing, and the answer simple answer is yes. When the barometer is dropping out or very low the bite is usually somewhat slower. The best fishing is a stable barometer and or a barometer that is about to fall out prior to a cold front or rain front. This weekend we should see more of a stable barometer and mild wearable giving us good fishing conditions. One tip, if you are fishing inside of 300 feet of water fish your baits a little deeper. If we do have fresh water flowing from the canals you definitely want to position your baits lower in the water column to get a bite. Fish do not like to eat in the fresh water on the surface.
For up to the minute fishing report tune in to 105.9 the Paul Castronovo show on Friday mornings at 6:30 AM. You can also call RJ Boyle Studio at 954-420-5001.
Get tight!
RJ Boyle