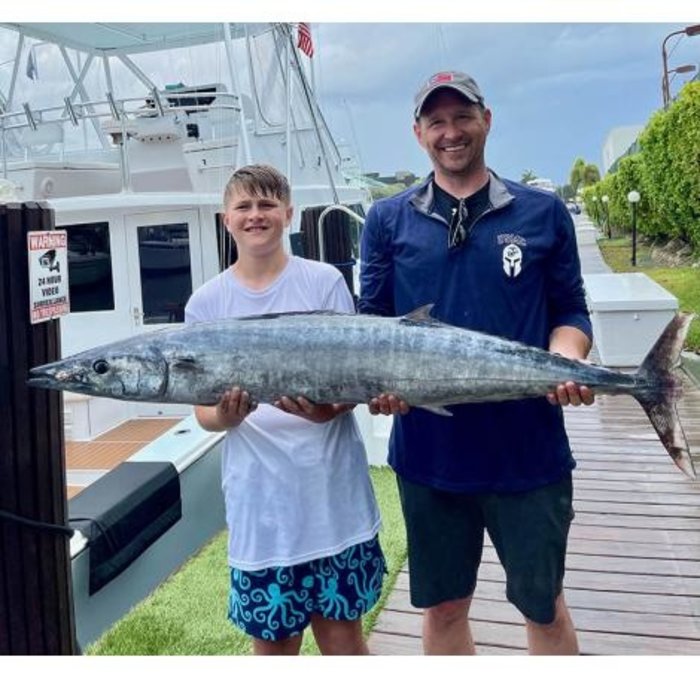 Pictured here is Dave and William Millard with a beautiful wahoo they caught a board the "LisaB" Wednesday morning. This was a special catch as it was caught on a rigger bait with 40lb test monofilament. Wahoo have some of the sharpest teeth around! Skill from the anglers and captain sure played a big role in this great catch. The bite sure has been awesome on the troll over the last week. The tuna bite has been good with fish up to 15 pounds. Kingfish have slowly moved their way in and we have averaged about 3 to 5 nice size kings per trip. The bonito run has started, which means you better bring plenty of bait and anglers as there have been times when our whole spread comes down at once and we catch 5 bonito at one time. This is a great time to cut bonito strips for bait and pack them for the rest of the season. if you know how process bonito for bait this would be the time to start. If you do not know how to cut and prepare then give us a call at the store and we can walk you through it.
We caught four sailfish this week and even caught a 30lb cobia on a rigger bait over a wreck.
As for the mahi-mahi there are still plenty of fish but they are very small so make sure to measure each and every fish.
Bottom fishing from the reports that we received was a bit slow this week. Remember that it is always better to bottom fish with a north current. If you stop the boat and realize you were moving south then you may want to try something else.
The fishing is great on the troll so get out there!
RJ Boyle