We Have a Lot to be Thankful For!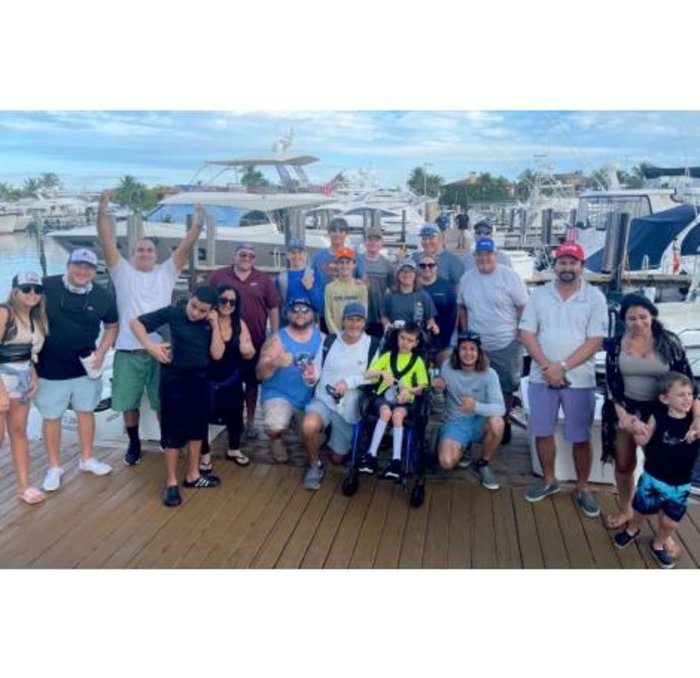 Pictured here are Tony and Ali Davis with students at Abi's place in Boynton Beach. This school is for kids with special needs such as autism and other complex disabilities. Over the last 8 years Tony,Ali and I along with a group of local volunteers have been blessed to be able to spend time with the families and children on the water who have been a part of Mission Fishin' which began years ago. We have been busy this year taking fishing trips everywhere from Miami to Marathon in the Florida Keys.
We have had so much of an outpouring of love from the local charter boats and private boat community giving of their time and effort to be a part of this wonderful organization. This year has been especially wonderful as donations have allowed us to give back in lots of different ways. Abi's place was in need of specific items for the school and we were able to give within this specialized arena. Having Tony and Ali Davis as the main volunteers that make the whole program function is truly a blessing as is there whole family. I met Josh Davis their son eight years ago as he was the first volunteer trip that we took fishing and my life was changed forever. Watching Tony and Ali hang on to Josh's wheelchair for four hours and never really relax put it into perspective for me right away. It was not only about the kids but the families and siblings whose lives were effected. There seemed to be no downtime for the families to relax.
Josh had a wonderful day as he completely relaxed and smiled while we ran to the fishing grounds. As we have spent time with so many different kids and families you realize that each one is so individualized and special. You really never know what to expect when a child or teenager comes down to the dock to get on a boat. Believe it or not some kids will not step foot on a boat and are completely afraid. Most times the parents and volunteers can calm them down enough to get onto the boat which ends up being A huge highlight in many of the kids lives.
We have lots of kids who are repeat Mission Fishin' participants and these kids look forward to almost all of the trips. I am so thankful to be a part of this wonderful organization and would like to say thank you to all who have given of their time, vessels and donations to make this another successful year.
RJ Boyle