Weather is Changing and the Fish are Moving!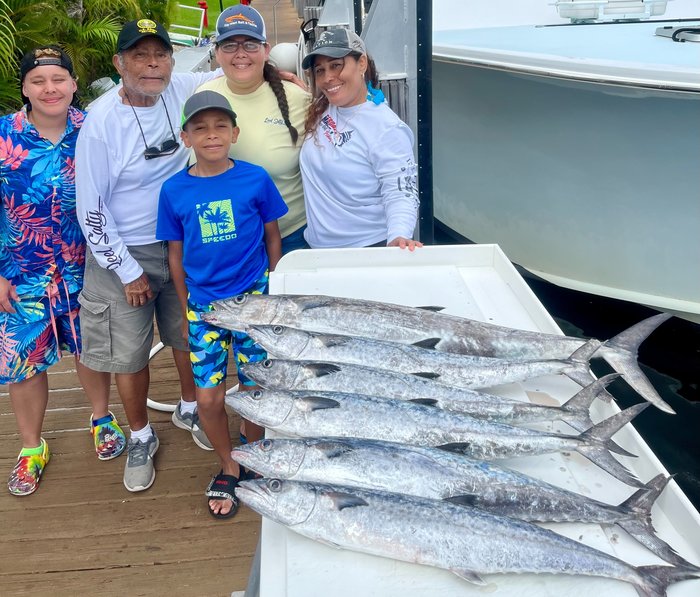 Pictured here is the Evans family with a nice catch of kingfish on a morning trip a few days back on the "Lisa B". The charter boats have all put up some nice catches of kingfish this week. Until now we have seen relatively no bite from kings in the last several months. What does this mean for fishing? Anytime you see a species turn on like a light switch it means that the migration of mullet and the change of season is upon us. Farther up the coast right now as we see giant schools of mullet are moving south. This historic mullet run marks the change of season. This is a transitional time for fishing here off our coast. We will start now to experience a little rougher weather and a few cold fronts which will make the fishing better for sailfish kingfish, swordfish and several other species. As for the kingfish people love to smoke them and also dice them up for tacos. Kingfish eaten fresh is excellent. 
We cut out the bloodline so that there is no fishy taste and dice it up into pieces for fish tacos.
Farther offshore the swordfish bite was excellent this week. Several fish up to 200 pounds were boated this week. You are going to see some bigger fish come to the dock over the next two months as this is a great migrational time for our area. If you are interested in doing a swordfish charter please reach out to us at the store and we will get you lined up. 
For an up-to-date fishing report listen to 105.9 the Paul Castronovo show at 6:40 AM on Friday mornings.
Get tight! 
RJ Boyle