Winner Winner Swordfish Dinner!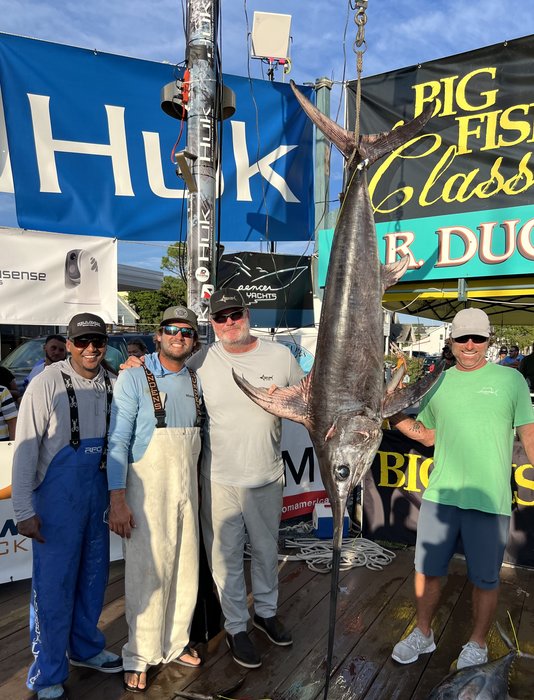 We traveled to Ocean city last week to fish in the HUK Big Game Classic. We were lucky enough to catch the biggest swordfish in a field of 97 boats which weighed in at 170.5 pounds. We fished aboard a 62-foot custom Weaver Sportfish called "Big Stick" with Captain Ronnie Fields at the helm and mates John Henry and Brad Wilson. Ronnie Fields is the son of Capt. Allen Fields who was the first person that I fished with it when I was young aboard the "Bolo Jr" out of Hillsboro Inlet. Since then, I have worked as a mate for Alan Fields over the years in several big tournaments and we have done pretty well. The Fields family is legendary for putting up big catches of Marlin, Swordfish and Tuna.
The swordfish win was worth $98,000. We caught the fish in 1,200 feet of water on a bonito taco. 
Locally, the fishing has been relatively slow offshore, and the mass of seaweed is still posing a problem for trolling. Several boats had nice catches of kingfish closer to the beach but the swordfish bite and mahi bite has definitely slowed a bit. Closer to the inlets the snook fishing has been excellent and the snapper fishing is still red hot so give that a go if you have the time. The best time to catch a snook is on the outgoing tide near the mouth of the inlets. Live bait is suggested.
If you need help getting set up, please give us a call at the shop. 954-420-5001
Get tight!
RJ Boyle