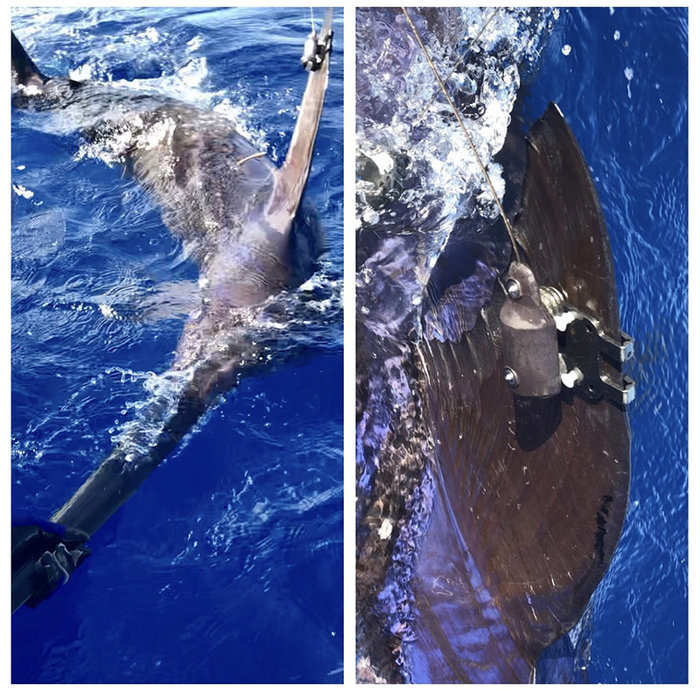 Pictured here is a swordfish that we released about a year ago. As you can see from the picture we attached a tracking device that allows us to follow this fish. These are the latest and greatest tags on the planet that are often used in tracking sharks. We worked with the University of Washington scientists on this project releasing 7 swordfish that can now be tracked worldwide on the Ocearch website (ocearch.org).
This particular fish is now located in the waters off Nova Scotia! When the dorsal fin breaches the surface a signal is read via satellite and from that we not only know where the fish is but we are able to see its vertical movement at all times throughout the water column. We are gaining so much insight as to where these fish really feed, bask and migrate. All of the fish we released lived and are located all over the Atlantic Ocean.
This fish was just under 300 pounds when we released it and the average growth factor seems close to 40 pounds per year up until the time where it is 350 pounds. These tags are not the usual pop off tags so we will be able to monitor this fish as long as she is not harvested or dies.
The new science and technology abilities sure are amazing. Check out the website and click on the different fish. The icon for the different fish are shown as sharks but once you click on the icon you will see that they are swordfish.
Stay tight this weekend! The weather looks beautiful.
RJ Boyle