African Pompano Catch Sure is a Special One!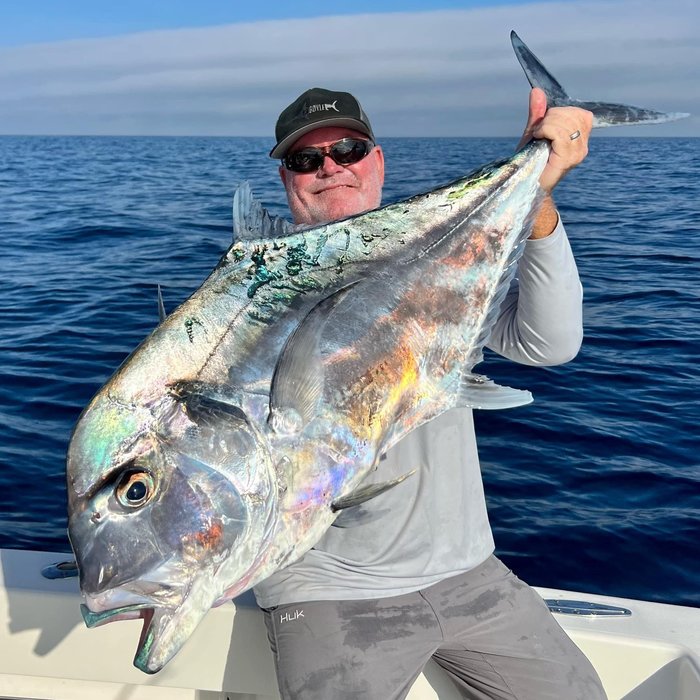 I have been fishing all my life and have only caught a handful of African pompano. These cool fish are rarely targeted, and you rarely see people posting about them. This week, I took a trip to Saint Petersburg, Florida to fish with Captain Matt Douglas aboard Yachtfish Charters. Our goal was to target these African pompano far offshore around up-water wellings of warm water. We fished around the cracks in the seafloor where this warm water would escape from below, creating the perfect environment for lots of bottom fish. This was really a spot-specific fishing, and you had to be in the perfect spot located just next to the well.
In two hours, we caught 30 of these fish up to 35 pounds, but most averaged around 15 pounds. The African pompano is one of the coolest looking fish on the planet with its brilliant iridescent colors. We ran about 40 miles offshore and fished in about 150 feet of water. You have to go a long way on the West Coast to find deep water. We harvested two fish, as that is the recreational limit per boat per day. The minimum regulated length requirement is 24 inches to the fork of the tail.
To top off a wonderful day, we brought our fish into the Sea Hag Restaurant and cooked up quite a meal consisting of blackened, grilled, and fried African pompano. This fish is absolutely fantastic eating and now one of my favorites for sure. After posting this picture, I had so many people reach out telling me that this is their favorite fish to eat. African pompano can be caught right off our coast on wrecks and rock piles during the months of December, January, and February, which seem to be the best. Most of these fish stage up in 60 to 80 feet of water above the wrecks and rock piles. Slowly drifted sinking baits, live or dead, are the best for these fish. There are a few boats locally that target the African pompano specifically. Reach out if you would like some more information on capturing this magnificent fish.
Get tight! RJ Boyle
Captain Matt Douglas
Yachtfish Charters
727-433-4200