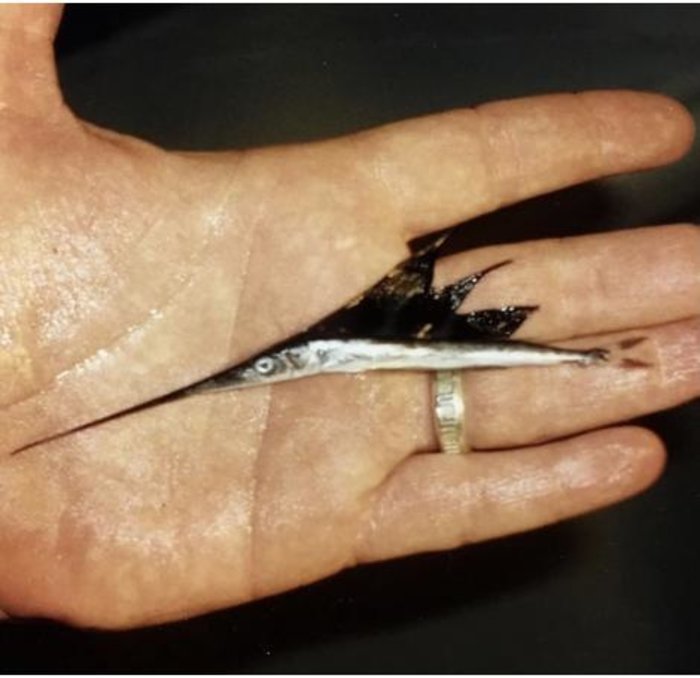 How cool is this picture! When we swordfish at night all sorts of critters swim around the boat. We always put an underwater light in the water which attracts so many types of fish to the boat. This live baby sailfish was one of many that was swimming around our boat 15 miles offshore. If you were looking to catch a sailfish you would only fish about 1 mile from shore but these small baby sailfish get caught in the gulfstream current where sailfish spawn. It is truly amazing to see all of the sea life out there. It's like a huge aquarium and you can get lost for hours just staring over the side of the boat. We see baby dolphin, flying fish, sailfish, eels and swordfish.
We truly live in a special place to have all of this happening right off our coast. The average speed of the gulfstream is about 3 1/2 knots which means that these fish get taken to far distances on the planet. It's not crazy to think that in just a weeks time this fish could be off Mexico where the sailfishing is world class. We do a lot of fish tagging which allows us to track the movements of not only sailfish but swordfish and other migrating species.
It is our job as anglers to protect our ocean and the fish that swim in them. If you are interested in tagging just reach out to us and we can put the actual tags in your hands. The Billfish Foundation and Gray taxidermy have wonderful programs for protecting Billfish worldwide.
Protect the ocean!
RJ Boyle