Bahama Wahoo Fishing is Underway!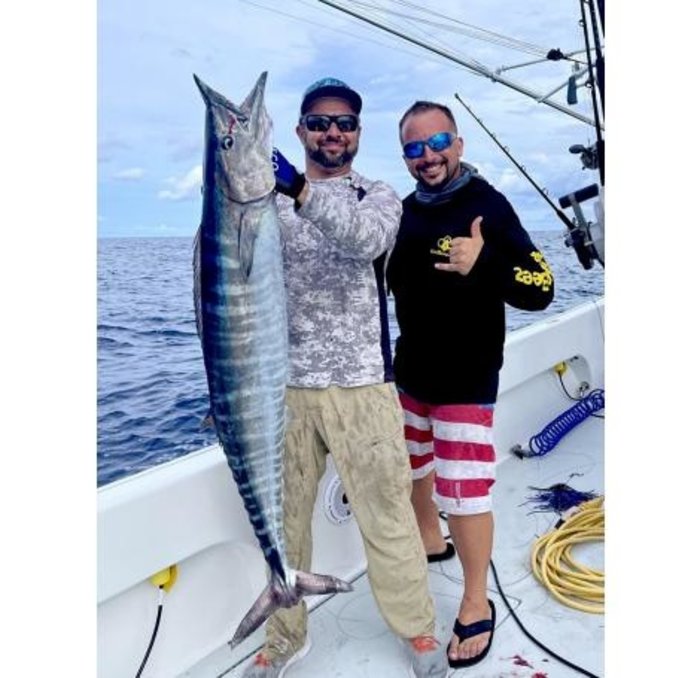 Pictured here is Mark Tsurkis left  and Nick Nafpliotis right with a big wahoo caught earlier this week in Bimini. Last weekend was the first wahoo tournament and the bite was really slow. 21 boats fished and the numbers were really low. If you have any plans of wahoo fishing you really have to look at the conditions before spending time and money on making these trips. Fishing is not always predictable but there are certain patterns for wahoo for sure. Cold fronts and wind direction play a major part in the Wahoo bite. Wahoo season is just beginning in the Bahamas so reach out to us for info.
As for local fishing the Sailfish bite was excellent this week. Captain Art Sapp aboard "Native Son" caught up to six sails on a three-quarter day trips this week. Along with the sails there are still lots of mahi-mahi and the best of the bite has been in about 150 feet of water.
At this time of the year we will start utilizing more live bait and kite fishing tactics to catch pelagic's off our coast. The best bait for us has been goggle eye, pilchard and threadfin herring. If you cannot catch our own bait make sure to reach out to Lighthouse Point Marina or Taha Marine in Pompano and or any other local bait guys to reserve your bait.
Lastly, there has been a rather large northeast groundswell outside of Boca and Hillsboro Inlets. Please be sure to look north and wait out the wave sets. If you are unsure about sea conditions please reach out to us.
Have a great weekend!
RJ Boyle