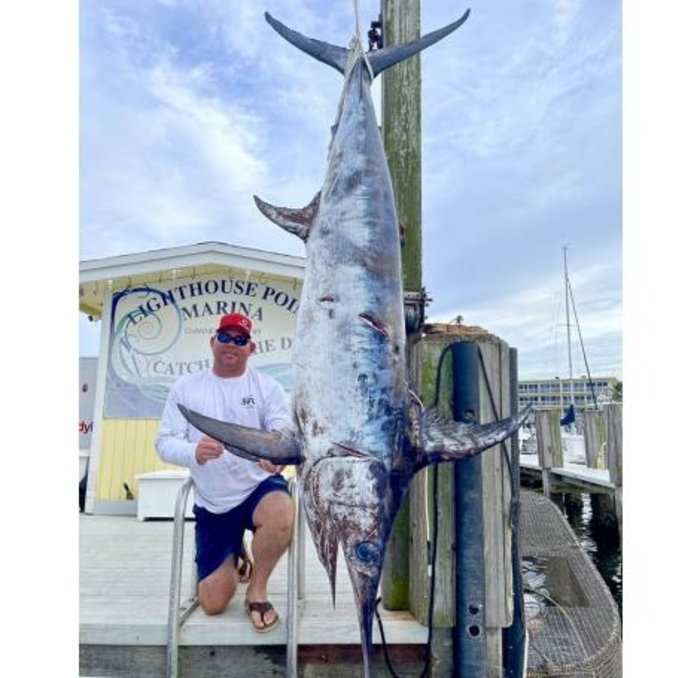 Pictured here is Cody Alexander with the big swordfish caught earlier this week aboard the "Lisa B". The swordfish bite was red hot all week as we landed a fish every day. We had plenty of happy customers that went home with bags filled with fish. The best of the bite was in 1750 feet of water and the bait used was a bonito belly. This fish was actually foul hooked and took three hours to land. The fish was hooked in the dorsal fin. We caught six swordfish this week ranging in size from 60 pounds to 350 pounds. The average size fish that we catch in the daytime is around 80-100 pounds. This is a great time to catch a Swordfish so reach out and we will guide you in the right direction.
As for nearshore fishing the sailfish and kingfish bite was pretty decent this week. The best of the fishing was in 200 feet of water which is a little deeper than the norm which 125-150 feet. When the sea water is really warm the fish have a tendency to be a bit deeper.
The mahi-mahi bite has been hit or miss this week. Corey Ryan out of Lighthouse Point caught a box full of dolphin up to 15 pounds. He found a tree floating well offshore and it was loaded with fish. Most anglers who spent time offshore caught 5 to 8 pound dolphin and maybe even caught a few undersized fish to be thrown back.
Tight Lines!
RJ Boyle