Big Moon Could Bring Big Wahoo This Weekend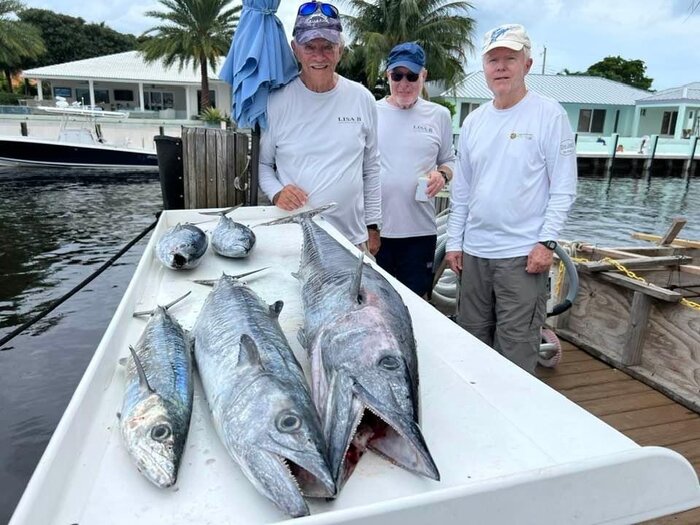 Pictured here is the Bill Bouck charter from yesterday. These guys fish twice a month religiously and I have to say they always catch a wahoo. Bill positions his charters always around and close to the full moon. They are not interested in running offshore chasing mahi or swordfish. These guys are wahoo guys! It is so nice to see a close group of friends that are in their 70s spending time together on the boat. I would highly suggest putting a trip together with family and friends to spend some quality time away from the craziness of this world! That is the beauty even for me today as I am writing this report. I am headed out fishing for swordfish and I truly love the escape from the real world for a few hours. The near shore bite has been exactly what you see in the picture here, kingfish, bonito and a  possible wahoo. 
"Native Son" out of Pompano did put up several catches of mahi mahi this week. 
I would also suggest snook in tarpon fishing along the beaches in inlets right now! The migration of the mullet has begun and the canals are starting to fill with finger mullet. With all of the rain and a little bit of rough weather it might be nice to stay inside and target these species. The mullet are so close on the beach that you can easily cast a live or dead beat from the sand and or rocks. The pier fishing has been great and the intracoastal waterway's are definitely filled with quality fish. If you have any questions or need help getting set up please give us a call at the store. 954-420-5001
For an up to the minute fishing report tune in to 105.9 the Paul Castronovo Papas Pilar fishing report at 6:35 AM on Fridays.
Good luck and stay safe!
RJ Boyle