Big Wahoo are still chewing!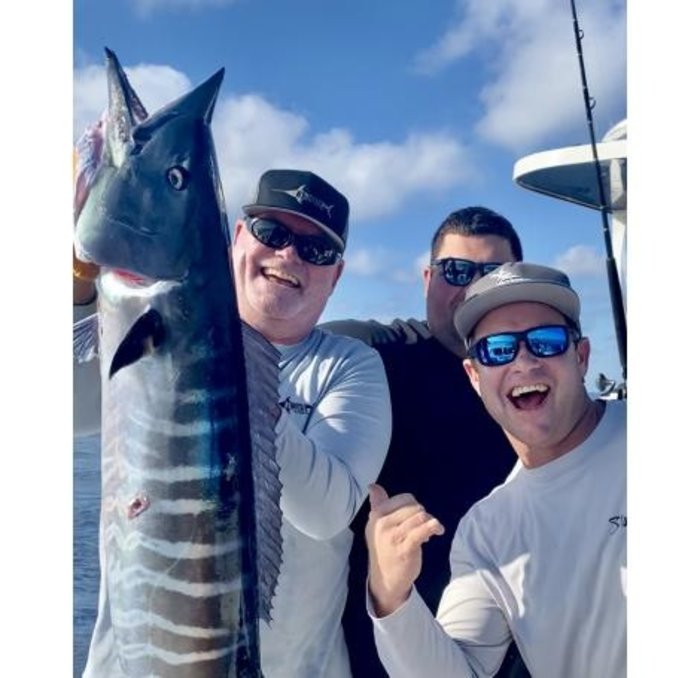 Pictured here is Charles Russo and Richie Clawges with a big wahoo we caught trolling high-speed lures. There were several wahoo caught in the 50 pound range this week. We fished 4 lures and trolled them at a speed of 15 knots to get the bite. It sure is crazy that a fish can catch the bait going so fast.  Wahoo are one of the fastest fish in the ocean along with the sailfish they can swim up to 40 miles per hour. The best of the bite has been around the wrecks. The depth range of the wrecks is 150 to 350 feet of water.
The sailfish bite was consistent with boats getting 2-3 bites on average per day up and down from Miami to Boynton Beach.
Mahi-mahi fishing has been kinda slow but a few nice fish have been picked up on the swordfish grounds well offshore.
The swords slowed down a bit over the last week with most boats getting 1-2 bites per day. We did have one report of a 500 pound fish landed off Pompano. This is a great time of the year to catch a giant swordfish as the migrational pattern routes them through our area.
Good luck and stay tight!
RJ Boyle