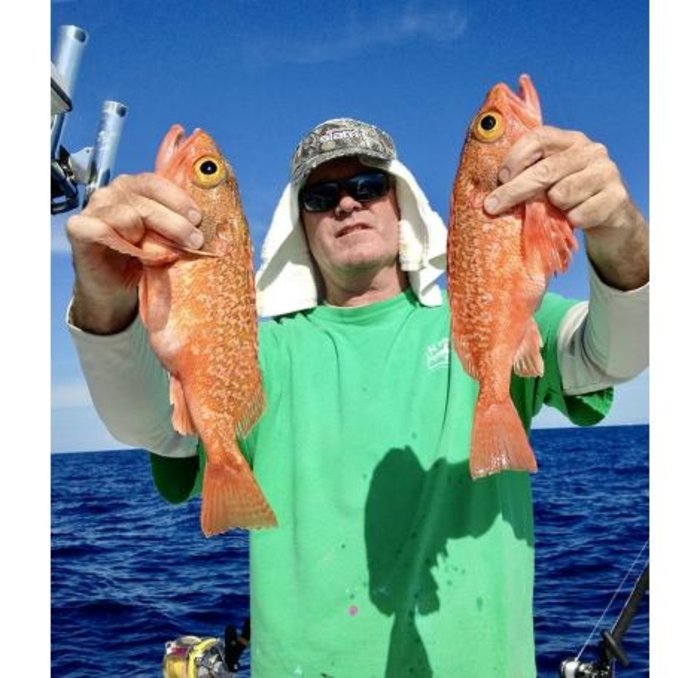 These are blackbelly rose fish that we caught in 750 feet of water outside Hillsboro Inlet. This is some of the best eating fish in the ocean. During the summer months when we are out looking for mahi-mahi we occasionally stop to make a drop for these tasty morsels. We use a chicken rig with six hooks baited with squid and an 8 pound lead for our rig. They are relatively easy to catch and we can guide you in the right direction. The only time it is difficult to catch them is when the current is moving too strong over four knots. The reason they are called blackbelly rose fish is that when you open them up to fillet them you will notice a black colored cavity for the stomach. It is very odd looking but let me tell you they make some of the best meals. The actual meat is bright white and flakey. One trick of the trade is that we use an electric knife to make short work of these fillets. It takes only seconds. This is the perfect time to give them a shot.
The mahi-mahi bite has been OK but we still have a lot of small fish here. We released a lot of undersized fish this week. The wahoo bite has been mediocre but the snapper fishing has continued to be good.
Swordfishing out here has been hit or miss with most boats only getting one to two bites a day. The swords caught this week were in the 100 pound range.
Near shore fishing has been a bit slow but we are expecting the fishing to improve this weekend.
Good luck out there!
RJ Boyle
P.S. We will be fishing in the Dry Tortugas this week so we will give you a report next week.