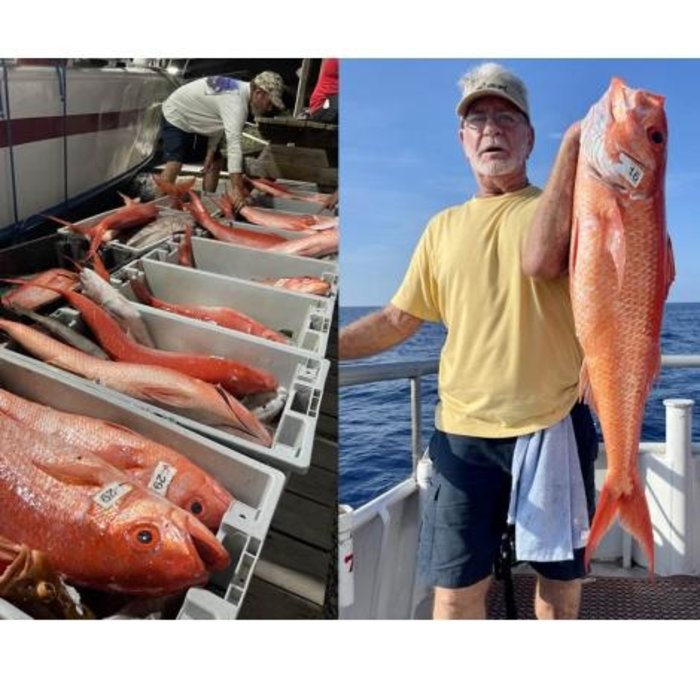 Early this week we took a trip aboard the Yankee Captain out of Star Island in Key West. We fished two days and landed some monster bottom fish which included snapper, grouper and tile fish. Pictured here is Ed Boyle holding a 27 pound queen snapper which is the biggest one I have ever seen. We caught 12 fish around this size! It took us around 10 hours to travel to a spot called Pulley Ridge where Captain Greg Mercurio set us up on the honey hole. The trip was actually planned for three days but after filling the box in two days we decided to head for the barn. We cut and packed fish for hours once we reached port and filled our freezers for the next few months.
All of these fish were caught in 800-900 feet of water using squid for bait. I have been taking this trip the last few years and it has been epic every time. We don't get to experience bottom fishing like this in our waters so I take this trip to get my fix. I highly suggest a trip so reach out to us if you are interested!
As for local fishing the swordfish bite has been good. On a trip this week we caught 2 swords with a group from Jacksonville. There were several other fish landed in the 200lb range as well so now is a good time. Nearshore fishing has been spotty with a mix of kingfish and bonito. Our charter boat "Lisa B" did catch a sailfish early this week.
Stay Tight!
RJ Boyle