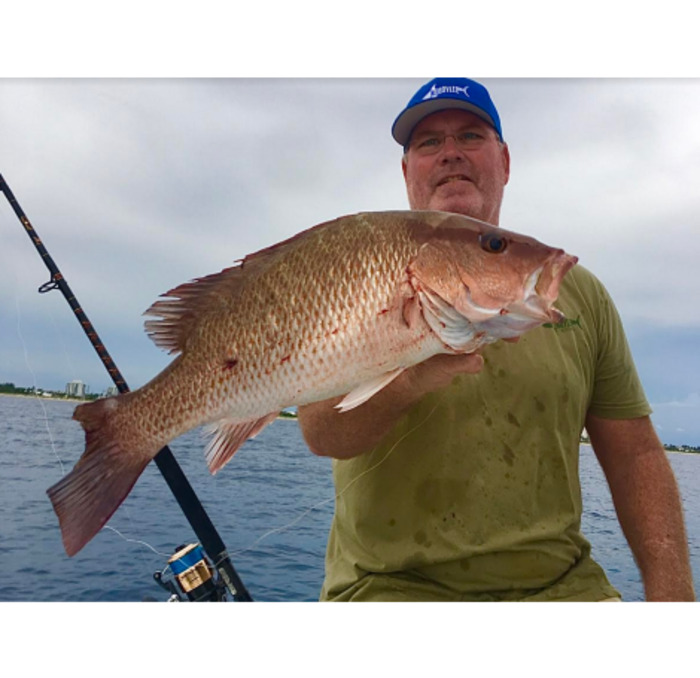 Pictured here is a mangrove snapper caught in 80 feet of water off of Boca. This is really a great time to anchor up and target snapper. Trolling nearshore has been really difficult lately as the seaweed is everywhere. It is actually difficult most days to get a trolling rod in the water. We are coming up on one of the best times to target mutton and mangrove snapper. Mixed in you can almost guarantee a nice yellowtail snapper.
Try anchoring your boat in 80-125 feet of water and deploy a chum bag with menhaden chum. Allow the chum to work for about twenty minutes before even putting a rod out. This will allow for the fish to get the scent and come closer to the boat. If you start fishing too quickly you will hook fish farther back and as you fight them they may fall prey to sharks. Once the sharks show up you may not get another fish to the boat. For mutton and mangrove snapper we fish a slide lead to a 25 foot piece of 50lb fluorocarbon leader and a 4/0 circle hook. We use bonito slabs and live ballyhoo as bait.
The trolling boats have been catching plenty of blackfin tuna and bonito from 80-250 feet of water. The mahi bite was decent this week with a few fish up to 15 pounds.
Be sure to check your radar and weather forecast as the storms have been a bit rough in the afternoon.
Get tight!
RJ Boyle