Fishing is Really Heating Up!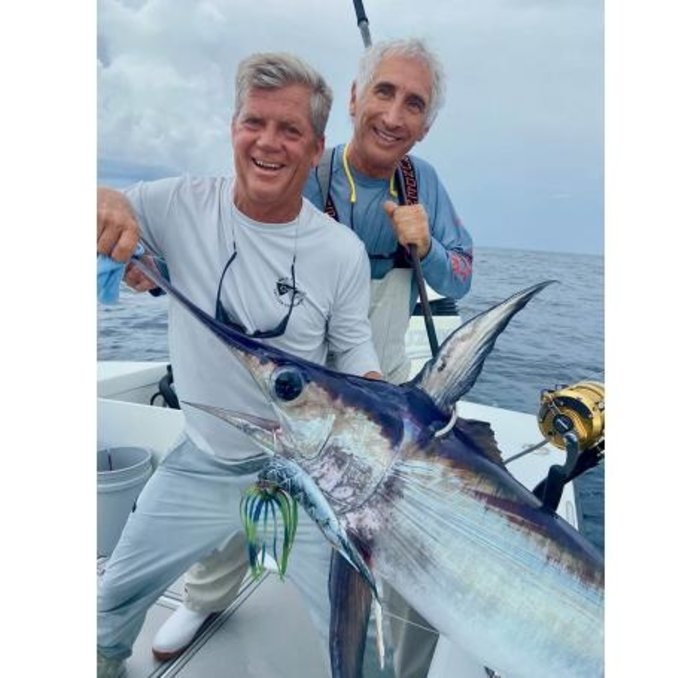 Pictured here is Charles Tota and Tori Lucky  with a beautiful Swordfish caught earlier this week out of Hillsboro Inlet. The swordfish bite has been red hot with fish being landed up to 600 pounds. Most of the fish caught this week were caught using Bonito Baits and the best depth was around 1750 feet of water.
Well offshore there were lots of big mahi-mahi caught. Some of the storms in the Caribbean have pushed debris northward into the gulfstream right off our coast. Pallets and floating palm tree parts have been mixed in with the seaweed patches. Mahi love to hang around floating debris so keep your eyes peeled for anything floating. The best of the dolphin (mahi-mahi) fishing has been about 11 miles offshore in 1000 feet of water but there is also a mixture of north east/southwest angled weed lines farther in shore.
We are coming off the full moon and there were lots of wahoo caught in around 250 feet of water trolling out of Hillsboro inlet lighthouse this week. The biggest wahoo I saw caught was around 40 pounds by a yellowfin called "Overboard".
If you need an up to the date fishing report please reach out to RJ Boyle Studio at 954-420-5001.
Get tight!
RJ Boyle