From Florida to California the Swordfish Bite is On!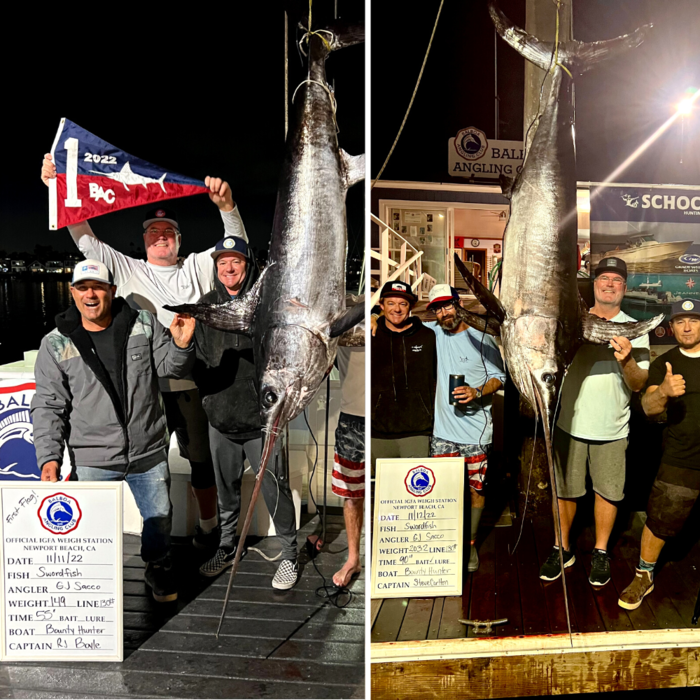 The two photos are from our trip early this week to California for the IGFA Southern California Swordfish Tournament. We pulled out a first place win fishing off San Clemente Island. I fished aboard the "Bounty Hunter" with Steve Carlton, GJ Sacco and Taos, the owner of Bearflag Fish Co. We caught two fish, one weighing in at 149 pounds and the other weighing in at 204 pounds. Another local Lighthouse Point fishermen, Drew Kettlehut, made the trip and placed third with a 196 pound fish. The IGFA (International Gamefish association ) put on a first class tournament and yes we will be back next year.
Mike Pruss's charter with Captain Mike Busse landed a great sword as well. These guys were fishing off of Pompano in 1,800 feet of water and caught a total of three beautiful swordfish. Over the last couple weeks I have been telling you to get out there to try and catch one of these amazing creatures. This migration will last another 60 days so I highly suggest reaching out for a charter or taking your own boat and giving it a go. The best bait used lately has been a giant squid tentacle that we sell at our shop. We had them brought in from Argentina and they are proving to be one of the best baits on the planet for swordfish.
The nearshore bite has been a bit slow this week as the storm had the ocean shaken up and unsettled. We should see the fishing improve for the weekend near shore but please watch the weather and check the forecast as we should have a bit of wind Saturday and Sunday.
For an up-to-date and accurate fishing report tune in to 105.9, The Paul Castronovo Show, on Friday morning at 6:40 or reach out to the shop RJ Boyle Studio at 954-420-5001.