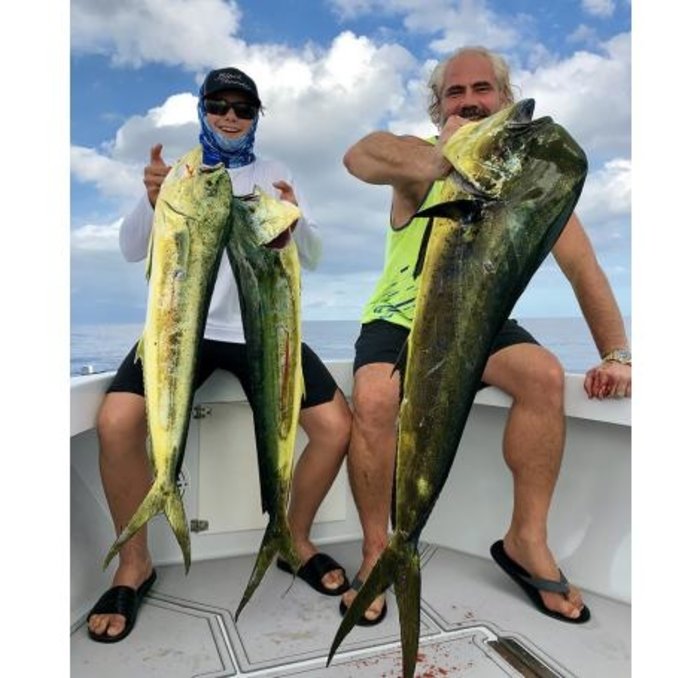 Pictured here is RT and Andrew with a few beautiful mahi-mahi that we caught a few days back. It is so crazy to see how inconsistent dolphin fishing can be off our coast. One day everybody catches them and the next day there's none to be found. I did receive one report of a boat catching 30 dolphin up to 25 pounds the same day is this picture was taken. With all of the storms and the weather activity in the Caribbean floating objects partially submerged have been floating out there. If you are going to spend any time looking for mahi-mahi you must slow down a bit to find this floating debris. Sometimes you can run and gun looking for birds but right now slow it down a bit.
These fish were caught off of a submerged cargo rope. Lastly I want to remind you that when you do have floating objects you need to make sure somebody is always looking forward so you do not tear off your lower unit. It can be dangerous fishing out here Offshore when you have lots of weather activity in the Caribbean. These fish were caught by simply throwing a dead ballyhoo towards the cargo net and letting it sink.
The rig was 50 pound monofilament leader about 3 feet long with a 7/0 3407 Mustad hook.
Take a look at the weather it looks a bit dicey for the weekend.
RJ