Giant Swords Caught This Week!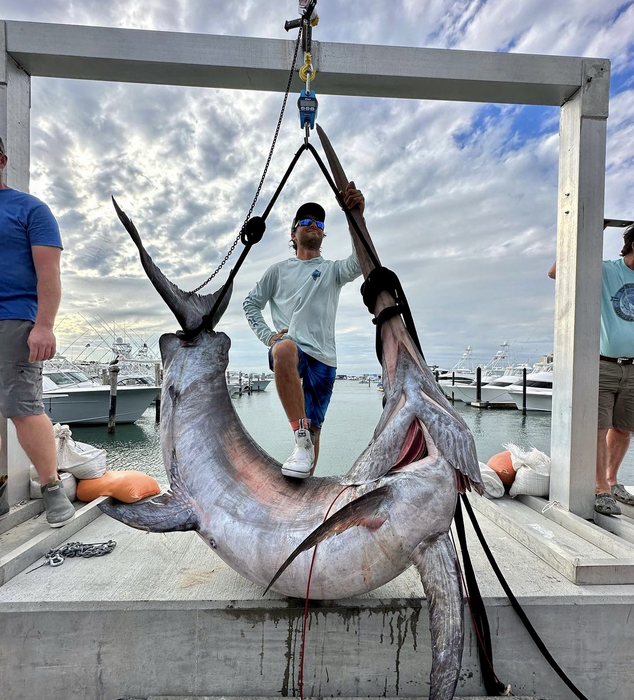 Pictured here is Bryce McMillan with a 470-pound swordfish caught a few days ago on board the "Reel Crazy." The fish was weighed in at Sailfish Marina in Palm Beach, along with several other swordfish that weighed over 300 pounds. Similar fishing success was reported further south in the Hillsboro area. Currently, there is a migration of large swordfish occurring, and if catching a big swordfish is your dream, I highly recommend taking your own boat or chartering one. However, the most challenging aspect at this time of year is navigating through the rough weather. Keep in mind that swordfishing is usually done around 15 miles from the coast and in 1700 feet of water, so you need to be equipped with safety gear and have a buddy system in place. If you're new to daytime swordfishing, I suggest reaching out to us at the shop for tips and techniques on landing these magnificent fish.
The fish in the picture was caught using hand cranking on a buoy rod, which is a secondary rod that is fished with a float similar to a bobber. Due to the high current off the coast of South Florida, hand cranking is not always possible, so electric assistance is used to retrieve the fish in heavy currents.
Closer to shore, the sailfish and blackfin tuna bite was consistent, with boats averaging about 6 tuna each.
Before heading out, check the weather for the week. Tune in to 105.9 The Paul Castronovo Show on Friday mornings at 6:40 AM for an up-to-the-minute fishing report. I get tight!
RJ Boyle