Grand Slam Caught out of Hillsboro Inlet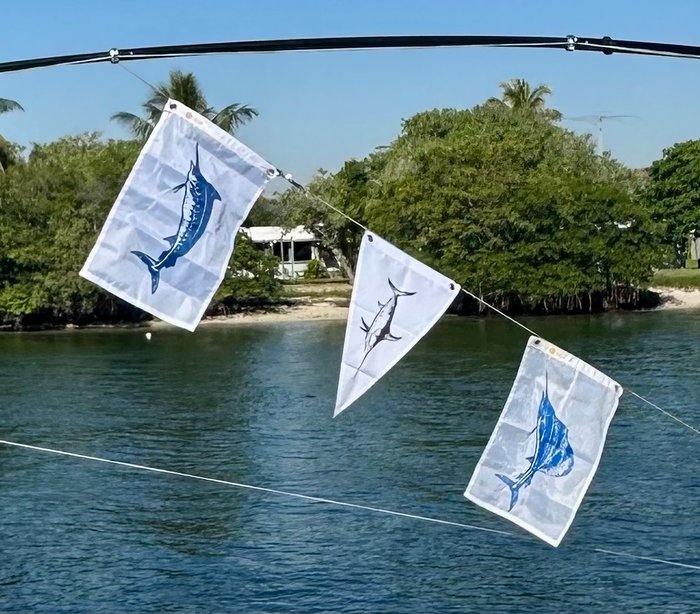 Mark Longaro and John Bassett senior set out on a mission a few weeks back. The goal was to target and capture a grand slam, which includes a swordfish, blue marlin, and a sailfish all within a day of fishing. In certain locations around the world, this is doable. Places like Costa Rica and Venezuela are hot spots for slams, but south Florida is definitely not a spot to target these three species and be successful. This is a special catch, and it happened this week out of Hillsboro Inlet.
The boys started trolling at 8 o'clock in the morning, 14 miles offshore near the Swordfish grounds. The best fishing for blue marlin off our coast is definitely in the month of March, so they felt like they could get lucky. At 9:15, they hooked a 250-pound blue marlin and released it an hour later. They continued to troll for another marlin before realizing that they had already caught the hardest of the three species, so their attention now focused on swordfish. They made a drop and almost instantly hooked a swordfish that they caught and released, weighing 250 pounds! With two of the three species already caught, they ran west towards the shore to set up for the sailfish. The sailfish should have been the easiest of all three species for these guys to catch. The problem was a huge batch of green water around the Hillsboro Lighthouse that was making it tough to target sails in the afternoon. They set up a drift relatively shallow with a kite and some live baits. Just before sunset, Mark saw some flying fish get up within the spread. A few seconds later, a sailfish ferociously ate one of their goggle eyes and started jumping. A few minutes later, they had the fish boatside and completed the release and capture of the grand slam! All three fish were captured and released before sunset! This is truly a great feat! I don't even know when the last slam was caught locally.
Throughout the week, the fishing was relatively slow with a few sailfish and blackfin tuna being caught. Most boats only had a few bites, and a handful of wahoo were also boated, but overall the fishing was slow this week.
Make your bite count! RJ Boyle