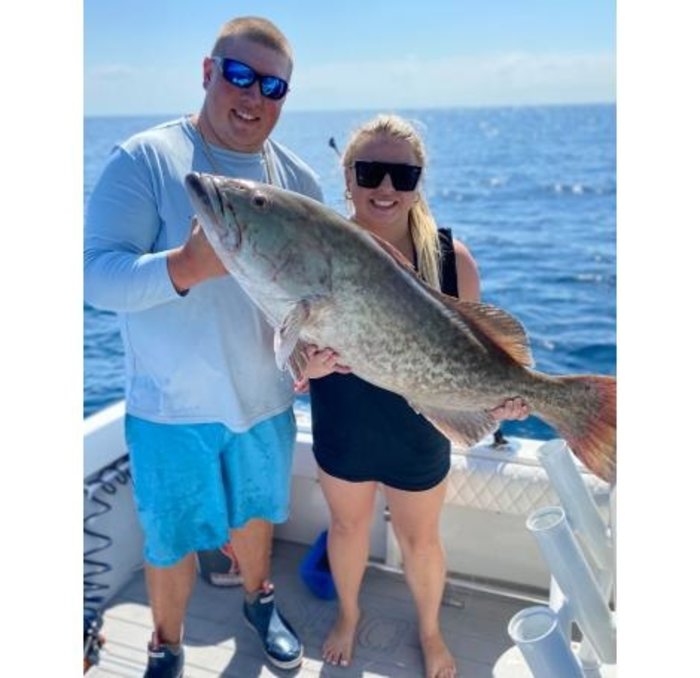 Pictured here is Nick Noon and Rebecca Parks with a beautiful gag grouper caught on the opening day of grouper season this past week. This fish was caught on a wreck in 260 feet of water. The limit on gag grouper is one per person and they must be at least 24 inches in length total overall. This fish was caught on the butterflied bullet bonito rigged on a 12/0 circle hook with 20 feet of 130 pound flourocarbon leader. This rig is attached to a three-way lead to hold bottom.
Locally you can target black grouper but they are few and far between. Fishing for the blacks off Miami and the Keys is much better.
The red grouper caught locally in 60-100 feet of water are wonderful eating but it can be tough finding legal fish which are 20 inches overall.
As for other fishing the kings are here in full force. The average fish is about 10 pounds and the best of it is trolling in 100 feet of water.
Swordfishing has been slow. We fished two full days with one bite and no fish this week.
Mahi fishing has been slow and the fish have been very small. For this weekend I would stick near shore and  concentrate your efforts trolling to maybe pick up a wahoo, some blackfin tuna and a kingfish. For those of you going grouper fishing good luck and make sure to check all limits.
Get tight!
Rj Boyle