Half Day Trips Yield Big Results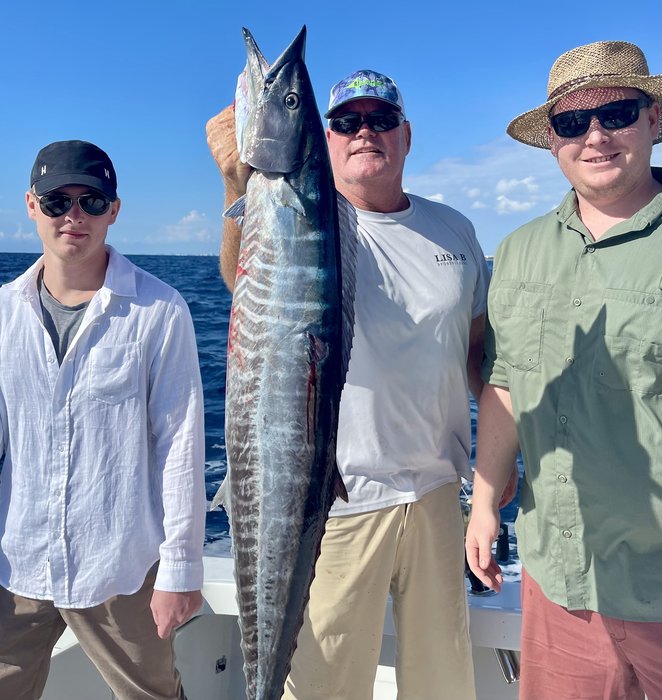 Pictured here top is the Shane family with a beautiful wahoo caught on a trip earlier this week. In the bottom picture you see the James family with an incredible four-hour half-day catch. People often ask us when booking charters how long they should book the boat for and most of the time we tell them six hours. This gives you the ability to run farther offshore looking for mahi-mahi if the inshore fishing is slow. This last week we have been able to really put some quality fish in the boat within the four-hour span. You can always extend to six hours if we don't have an afternoon trip.
Mixed in with mahi and wahoo have been quite a few sailfish. We caught three sailfish this week while trolling but we actually had about 10 bites so our hook up percentage was subpar. That being said coming back to the dock with plenty of meat for dinner overshadowed our poor hook up average. All of these fish were caught trolling.
Captain Art Sapp aboard "Native Son" caught some nice cobia this week while kite fishing with live bait Along with a few sails and kingfish. The beauty of this time of the year is that you are constantly usually catching something and bending the rod. It is a great time to get out on the water!
As for offshore fishing, the swordfishing was a bit slow this week with not much to report but we should see an increase in swordfish next week. We will be out there several days in search of swords so we will keep you posted.
You can call the shop and receive an up-to-date fishing report at any time: 954-420-5001
Get tight!
RJ Boyle