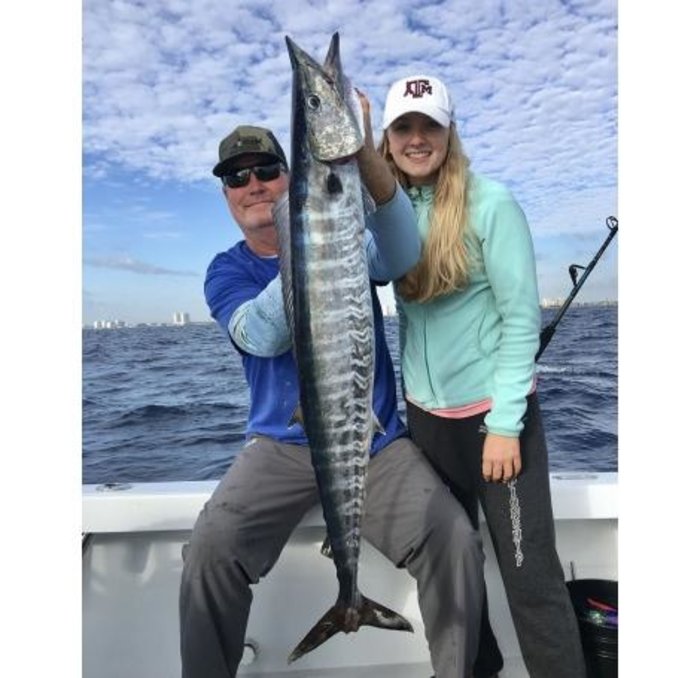 Pictured here is Caroline Boyle with the Wahoo caught in 200 feet of water off Hillsboro Inlet. This week has been gangbusters for blackfin tuna, mahi-mahi and a few nice wahoo. The best of the fishing for us was in 180 to 220 feet of water around the wrecks. All of our fish this week we're caught while trolling bonito strips and ballyhoo at a speed of eight knots. The tuna are getting increasingly bigger as the average fish we caught was well over 20 pounds.
I did get a report yesterday of the boat "Off the Wall" out of Hillsboro Inlet Captain by John Anderson catching seven sailfish and six blackfin tuna during the late afternoon fishing live bait and kites. The mahi-mahi have been on the smaller side with most fish weighing in at 5 to 7 pounds. There have been a few 15 pound fish around. The dolphin have been caught near shore in 200 to 300 feet of water.
This is really a great time to fish as everything is biting. Farther offshore the sword fish bite has finally heated up with several boats catching fish up to 500 pounds. The best depth for the swordfish this week was 1650 feet of water. Give us a call at the shop if you have any questions.

This weekends weather looks to be beautiful so give it a go and happy Memorial Day!
RJ