Local Fishing is Starting to Heat Up!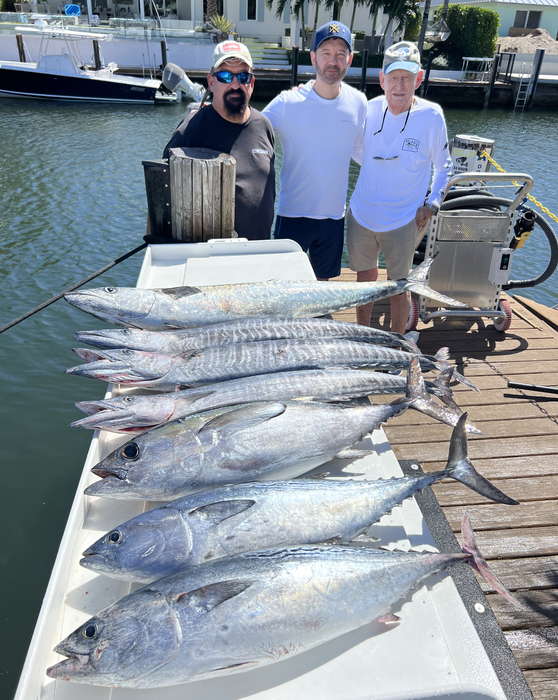 This photo shows the Sam Newman charter from a few days ago, with a fantastic catch of wahoo, big kingfish, bonito, and blackfin tuna. When we start to see the migration of the blackfin tuna, it lets us know that fishing is about to heat up. Be prepared to see some big wahoo caught, as they love to eat blackfin tuna. The best fishing this week was between 150 and 200 feet of water, and all the fish caught here were caught while trolling at around 8 knots. The boats that were fishing with kites were also very successful, but only for sailfish. The Native Son out of Hillsboro Inlet caught multiple sailfish on several trips throughout the week. The sailfish bite was best at around 150 feet of water, with goggle eye being the primary bait used.
Further offshore, the swordfish bite was red hot with several fish weighing over 300 pounds. If your dream is to catch a big swordfish, now is the time to do it. The best bite was at 1750 feet of water on both squid tentacle and bonito bait.
If bottom fishing is your thing, we received two reports of larger vermilion snapper on the shallow edge at 250 feet of water, and out in the deep, the blackberry rose fish bite was on fire.
To get an up-to-date fishing report, tune in to 105.9 the Paul Castronovo show on Friday mornings at 6:40 AM!
RJ Boyle