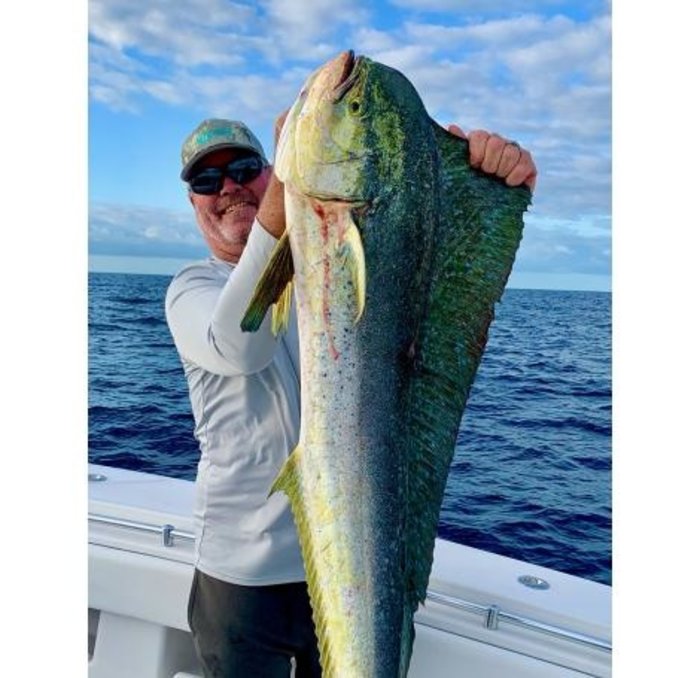 What a week it was fishing for mahi-mahi. Over a five trip span this week we caught over 100 mahi up to 20 pounds. The seaweed lines were brutal as we were constantly clearing weeds from out rigs. All of the fish that we caught were hooked while trolling in anywhere from 200-800 feet of water. The average weight of the caught fish was only around 5 pounds but it sure made for some fun fishing. There was one huge mahi caught by Captain George Disbury aboard the Bolo that weighed in at 47lbs.
With all of the Northeast wind over the last few days we should see great fishing this weekend close to shore. This heavy blow should help organize the weed into cleaner more fishable lines instead of the scattered pattern which is difficult to properly fish.
Near shore we have seen a really consistent kingfish and blackfin tuna bite and this will continue through the weekend. The weather for next week looks really favorable so I would suggest a plan to go fishing. The wind will start backing off Sunday.
As for swordfish offshore, the week was tough with heavy north current and tons of seaweed. Hopefully this north wind will slow the Gulfstream push and show favorable conditions for the OAPB Swordfish Tournament this Sunday. You can sign up through Saturday by calling us at the store.
Have a great weekend!
RJ Boyle
954-420-5001