Mission Fishin in the Keys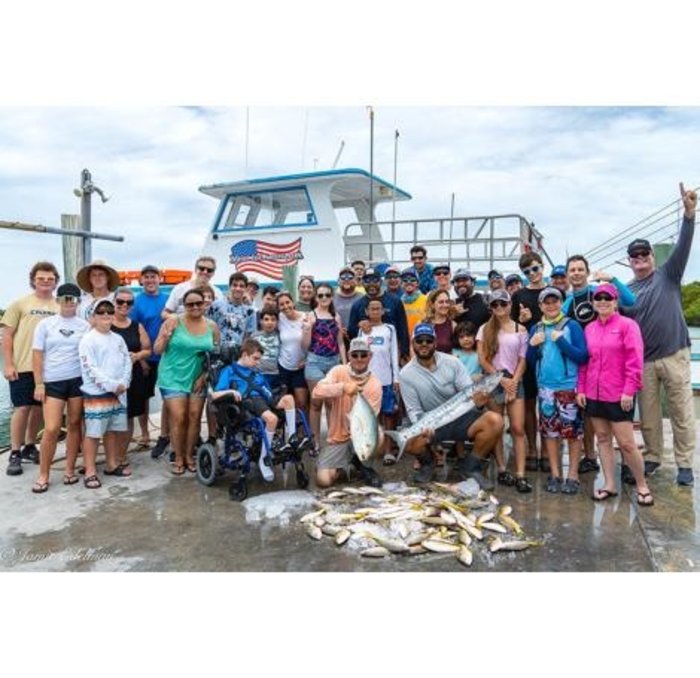 Pictured here is Brayden Braybenec with a big yellow jack that we caught on a trip to Islamorada last Saturday during our monthly Mission Fishin outing. Once a month we gather special needs families and siblings along with volunteers for a day on the water to fish and relax.
The trip was awesome as we boated over 75 yellowtail snapper and a couple other trophy fish. It was so awesome to see all the kids and parents in one spot aboard the "Miss Islamorada" that was donated for the day by the Stanczyk family out of Bud and Mary's marina. The minute we arrived at the fishing grounds the yellowtail snapper came to the surface knowing the sound of the boat. It was spectacular to see all rods bent over the minute we got there and it never stopped. We also caught several barracuda, nurse sharks, pork fish and other bottom dwellers.
The snapper bite has been off the chain down there as well as the mahi-mahi as all boats seem to be catching their limits. The mahi mahi are not making it all the way up to our area like they are in the keys. If your goal is truly to catch a lot of big mahi I would suggest making a trip to the keys now. As for fishing up here out of Hillsboro inlet, the snapper bite this week actually was great. Mutton snapper we're caught up to 15 pounds and boated by several vessels fishing in a depth of up to 125 feet. Mutton snapper fishing is very tricky and you must have the correct tackle to present to these finicky fish. The use of flouricarbon leader's and fresh bait is a must. The yellowtail snapper bite was also red hot as we had a nice north tide this week out of Boca.
As for pelagics the bite was a little slow this week with a lot of bonito and a few small mahi but with the rain moving out we should see the fishing pick up this weekend! To follow our local charter boat for daily catches check out @lisabsportfishing on Instagram or Call us at RJ Boyle Studio for an up to the minute fishing report.
Left to right
Capt Nick Stanczyk ,RJ ,brayden and Tony Davis