Offshore Fishing is Picking Up off Hillsboro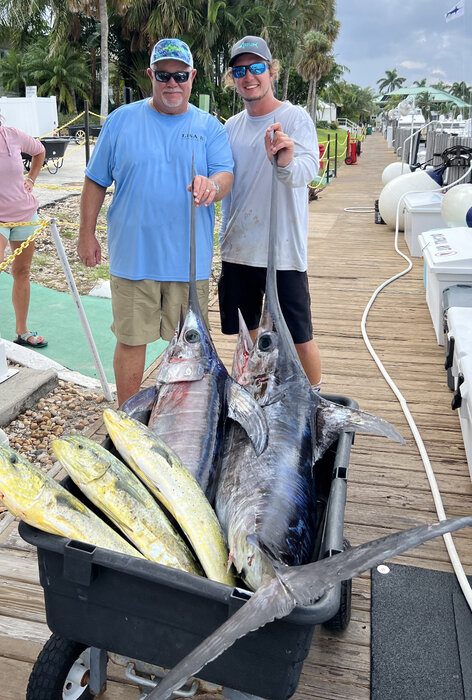 Pictured here left to right is Captain Mark Danley and first mate Luke Mears aboard the "Lisa B" out of Lighthouse Point Yacht Club. On the trip earlier this week they landed several swordfish and some nice mahi. History and logbooks tell us that the next 60 to 90 days should be excellent fishing offshore for these two species. We should start to see larger swordfish up to 500 pounds over the next couple of months. We will see a bit of a migration of squid move into the area which will help our fishing. Most of this good fishing is around 15 miles offshore in an area we call the sword grounds. The depth in this area is around 1,700 feet of water. The bottom structure is rocky in the area and the combination of the gulfstream current and rocky bottom creates current edges that attract mahi mahi. 
While you're sitting waiting on a swordfish bite we often catch mahi like you see in the picture here. This is a great time to get offshore. 
Closer to shore the wahoo bite was pretty good this week. The best of the bite was in around 200 feet of water. The kingfish, sailfish and blackfin tuna bite was mediocre.
For an up-to-date fishing report tune into 105.9 the Paul Castronovo show and Papas Pilar fishing report Friday morning at 6:30 AM. You can also call the shop at 954-420-5001.