Sailfish Bite is Getting Warmer!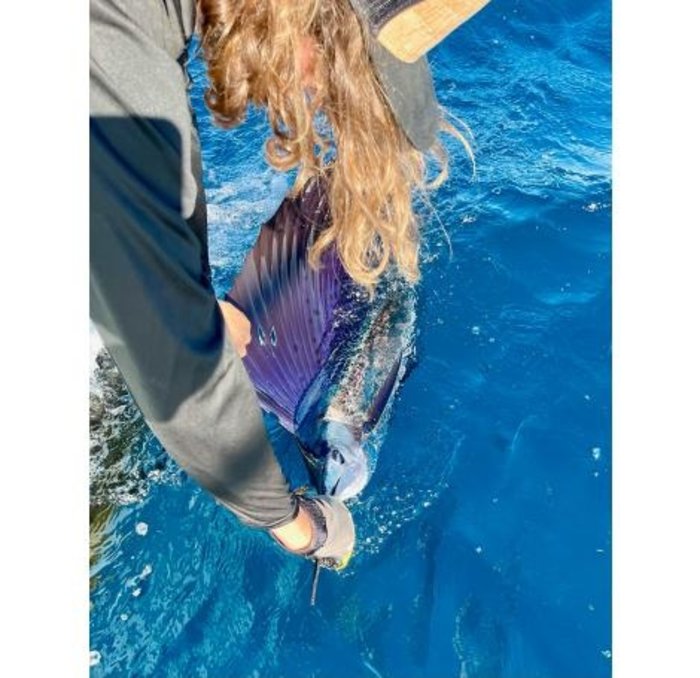 Pictured here is our Nick Sea charter from Ocala with an outrigger full of sailfish flags aboard the "Lisa B". The weather has been beautiful and the live bait action for sailfish has heated up a bit. Over the next 2 to 3 months we will see lots of sails being caught right here off of Hillsboro Inlet. Most anglers use a technique called kite fishing to target sailfish by dangling live bait from the kite line. The benefit to kite fishing is that no leader is actually in the water. The leader is above the water and doesn't hinder you from getting a bite due to visible line laying in the water.  Sailfish have big eyes and at times will shy off of leader line that is too heavy and visible in clean water. This particular day we caught four sailfish using live ballyhoo for bait. We simply hook a ballyhoo through the lower jaw and slow troll them behind the boat. No kite needed. This is a very simple way to fish and can be very productive. To get the lowdown on catching these bait fish please call the shop for details.
As for other fishing the mahi-mahi bite was really good this week near shore and the best of it was in a depth no deeper than 300 feet of water.
The swordfish bite was off the chain all week. We caught several fish up to 200 pounds this week. "Frick and Frack" caught 3 swords up to 100 pounds before 12 o'clock a few days back. The fish were feeding on a mixture of baits. Mahi and bonito bellies are working great. For an up-to-date fishing report give us a call at the store and also remember to check the weather as we are in the winter season and the seas can be unpredictable.
Get tight!
Rj Boyle