Snapper and Swordfish are This Weekend's Top Prospects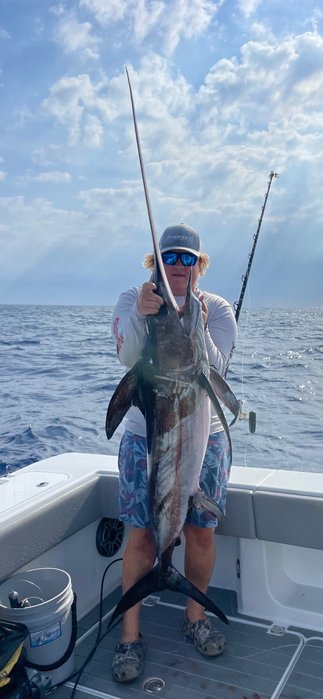 The fishing near shore was very slow this week, as boats had difficulty putting together a quality catch. However, a few wahoo were landed, and we received a report that the "Ringmaster" out of Hillsboro caught a 50-pound kingfish on the troll. We are currently transitioning from the winter months into spring, and for the next few weeks, we will be in a slower fishing pattern. Fishing will be a bit tough during this time, but it will break out by the end of March. Shortly, we will see an increase of blackfin tuna and kingfish.
Further offshore, the mahi-mahi bite was pretty much nonexistent, but the swordfishing was consistent. The "Queen of the South" with Nick Noon at the helm landed a 75-pound swordfish and a 300-pound Mako shark. The sword bite was better to the north in depths of 1,700 feet of water off of Boca and Delray. The best bait for swords right now is the squid tentacle.
If you're having a slow trip, don't forget to target vermilion snapper. The best depth for the snapper is around 200 feet of water. We use chicken rigs consisting of four small 2/0 sized hooks baited with squid and fished on the bottom. You can simply drive the boat between 180 and 220 feet of water and find these schools of fish on your bottom machine.
Good luck and get tight!
Tune in to 105.9 the Paul Castronovo show on Friday at 6:40 AM for an updated fishing report.
- RJ Boyle