Swordfish and Mahi Catches are on the Rise Off Hillsboro Inlet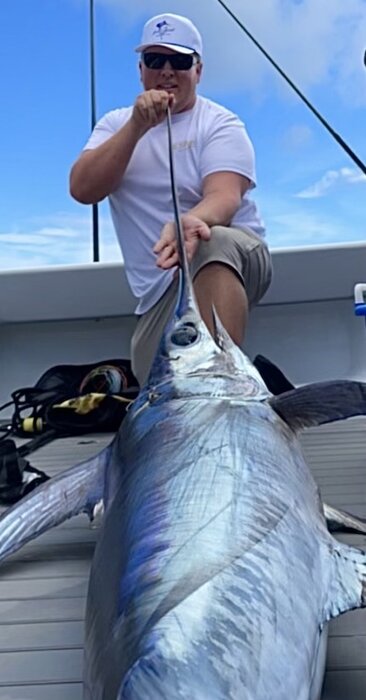 Pictured here is Nick Noon with a beautiful swordfish catch from a few days back caught aboard the Freeman boat "Queen of the South". The migration of the nice swords is beginning to happen as it does each year around this time. Over the next 60 days I really expect to see some fish over the 400 pound mark. These fish will stay here as long as the bait is here and right now they are eating squid. The best of the bite was around 1650 feet of water.
Mahi Mahi were being caught consistently all week on the sword grounds which is around 14 miles off the beach. The average size of the Mahi this week has been around 5-6 pounds. We were also seeing a few floating pieces of debris between 300 and 600 feet of water so keep your eyes out.
Near shore fishing has been hit or miss. I did see one good catch made by the "Ringmaster" out of Hillsboro Inlet and Captain John. They boated a 40 pound wahoo, several kingfish and a handful of bonito on a half-day trip earlier this week. 
Yellowtail snapper fishing has been epic all week with a large class of fish being caught. if you can get a light north tide and anchor up and around 70 feet of water you should get tight.
Do you have any questions about the fishing or need to get set up with tackle please give us a call at the store 954-420-5001.
For an up to date fishing report listen to the Paul Castronovo show Friday morning at 6:35 AM. 
105.9