The Luckiest Fisherman Ever!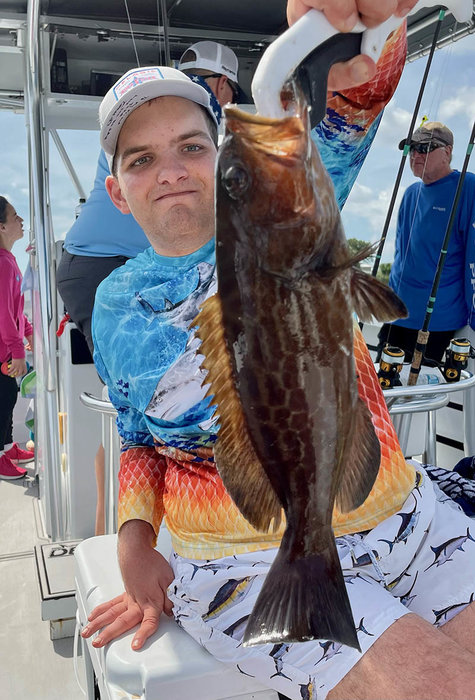 Pictured here is Jake Seiden with a black grouper we caught a few days back. Jake actually showed up to our Mission Fishin' event last Saturday and as I was greeting him and his family he told me that he wanted to catch a grouper. The sea conditions were really rough so I knew that we would be fishing in the intercoastal and the chances of catching a grouper would be hugely slim. That being said every time Jake comes to an event we seem to catch what he requests which is too funny. We have spent several days this week fishing in the intercoastal because of the rough ocean.
Trolling artificial lures and rigged ballyhoo can produce large jacks and big barracuda throughout the canals locally. Once in a while we will hook a snook or tarpon. We had to put in our time trolling over a four hour span and we actually managed to get bites from and catch seven barracuda during the morning. Jake was sitting intently watching the rod tip as we entered the last canal. The rod slowly bent and the line just started screaming off the rod. Jake sprung into action and reeled in a black grouper! We were all completely in shock! I looked over to Jake and I said "well you got your grouper what do you think?" he simply nodded and said "yeah I knew I would get that one". That is the first black grouper that I have ever seen caught in the intracoastal in my whole life. What a catch!
As for local fishing not many reports were had due to rough seas but this weekend looks really nice and we are anticipating good swordfishing as well as wahoo and mahi-mahi catches. Give us a call at the shop early this week and we will give you an up-to-date fishing report.
RJ Boyle