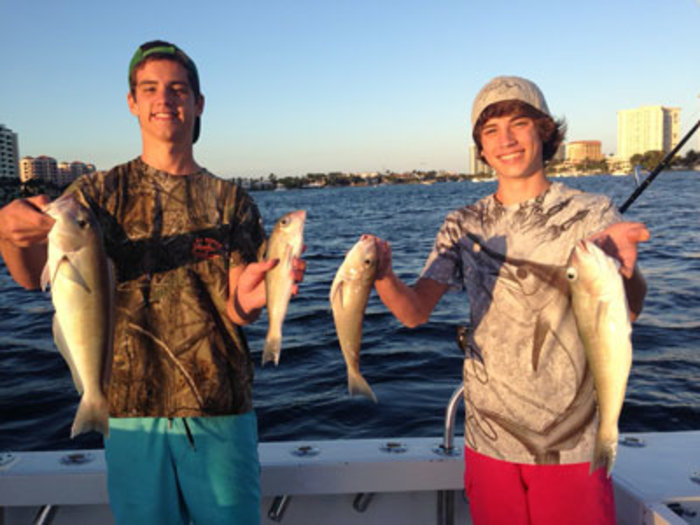 January is always welcome at my house!!! I know that I can go out fishing in the month of January and almost guarantee my girls a great dinner. Gray tilefish stack up in the sand off our coast from the depths of 350-500 feet of water. Last year we posted a picture of a day that we caught 75 fish up to 5 pounds in an hour. We fish 5 hook rigs comprised with 5/0 circle hooks and a 32 ounce lead at the bottom. For bait we use cut squid, bonito, or any fresh fish species that we can get our hands on. At the top of the rig we add a water activated strobe light to illuminate the bait and attract live bait into the area.
It really gets no easier than driving out of Boca or Hillsboro inlet and driving out to 400 feet and dropping down the rig to the bottom. You want the lead to bounce on the sand as you drift to stir up the sand which will alert nearby tile fish. The one thing I can tell you about tile fishing is that you won't see glamourous rod bending and line pulling action. What you will see is fish come over the side of the boat that you can cook for dinner.
This weekend you will also have a great shot at a wahoo. We have a full moon which is the best time to fish for these fish in the 150-350 foot depths. Fast trolling lures and baits or live bait fishing will be the most popular tactics used to catch 'em. Call us at the shop with any questions about tile fish or wahoo.
Good Luck.