World Class Fishing Trip This Week!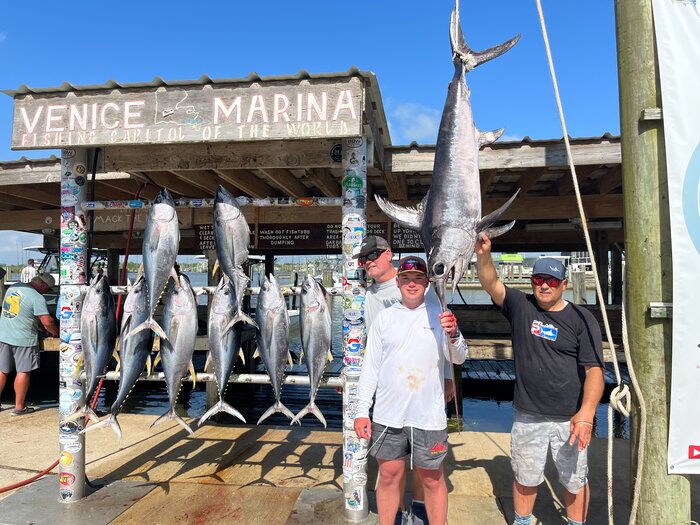 Earlier this week, we traveled to Venice, Louisiana, in search of yellowfin tuna. I have fished out of Venice several times in my life, and as an angler, it's definitely a bucket list trip. The ability to catch almost anything in the world is within range. Anglers from all over the world go to Venice to catch redfish, sea trout, and lots of other backwater species. On the flip side, anglers travel here for offshore big game, such as broadbill swordfish, yellowfin tuna, and blue marlin. They call this place the end of the world, as it takes two hours to drive from the airport through a rather desolate area to end up in marshland. Venice Marina and Caloosa Cove are the two main marinas in Venice. There are little houseboats and several small stilt home-style hotels for rent. Everything was affordable on land, but your choices were limited. It's definitely a rustic, hardcore type of trip, but the fishing is worth it. In a day of fishing, we ran 40 miles out to an oil rig and caught several yellowfin tuna using live bait that we netted earlier in the trip. On the way in, we also caught several swordfish using the daytime drop method. While we were out there, we also saw blue marlin eating blackfin tuna. This is definitely a first-class fishery for anglers, and I highly suggest it. Paradise Outfitters was the charter company we used on the trip. They have three cat boats with first-class tackle, and they are great guys.
Locally, the mahi-mahi fishing has definitely picked up well offshore. Several boats caught fish over 20 pounds this week on floating debris. The best fishing was about 14 miles off the beach. Inshore catches were still filled with blackfin tuna and a few sailfish. The kingfish bite is on and off, and the best of the bite for all inshore pieces has been around 120 feet.
The Trashcan Slam Tournament is this Saturday!
This is a wonderful tournament put on by Mikaela Whitmer of Deerfield Beach. The tournament benefits autism awareness, and she has done a wonderful job with this tournament for years! If you are interested in fishing the tournament, give us a call at the store, and we will get you lined up with Mikaela. The weigh-in will start at 4 o'clock at the Cove restaurant in Deerfield Beach. Stop by and check it out.
RJ Boyle
For an up-to-date fishing report, listen to 105.9 the Paul Castronovo show at 6:40 AM on Friday.